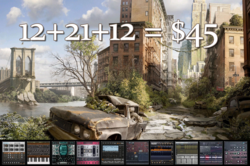 The sale to end all sales!?
(PRWEB) December 13, 2012
In 2012 doomsday predictions have abounded. Image-Line ponder, could 21/12/12 be the end as some say? They don't know but they saw a pattern in the numbers, so powerful that they couldn't ignore it. 21 + 12 + 12 = 45!
In response they have announced that all Image-Line plugins will now be $45 each, until the end of the world, or December 31, 2012. Whichever comes first.
Image-Line say to get ALL the plugins you want, first time, as this offer expires once you use it!
ABOUT IMAGE-LINE SOFTWARE
Established in 1994, Image Line Software provides high quality music applications to the computer-based music community and is well known for its leading digital audio workstation FL Studio (formerly FruityLoops), high quality synthesizers including Sytrus, PoiZone,Toxic Biohazard, Harmor, Harmless, Morphine, Ogun and Sawer, a mix of innovative Effect plugins like Maximus and Hardcore and range of sample libraries used in their multi-sampler plugins DirectWave and Soundfont Player. FL Studio Mobile. The acclaimed DJ mixing software application Deckadance. In addition to its audio software, Image Line Software develops and distributes the web site EZGenerator.
For more information, please contact:
Scott Fisher, Communications Manager
Image Line Software
E-mail: press(at)image-line(dot)com
http://www.image-line.com/documents/news.php