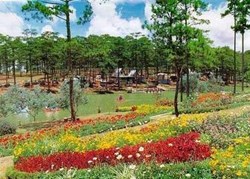 It is noticeable that the current price is discounted by 30-45%
(PRWEB) December 18, 2012
On its 6th anniversary, Smile Travel Vietnam is providing cheap tours for both domestic and international customers. In particular, there are a variety of tour packages to the famous tourist attractions in Vietnam such as Hanoi, Ho Chi Minh City, Ha Long Bay, Hue, and Da Lat. Among them, Da Lat is considered as a potential destination.
Da Lat, one of the top destinations in Vietnam, is well-known for its romantic and peaceful beauty. Situated in the South Central of Vietnam (Lang Biang Highlands), Da Lat is surrounded by the cool, fresh and charming atmosphere.
It's not easy for visitors to choose the initial visiting place in a Da Lat Tour because of its widespread beauty. The city looks like a cross between Vietnam and the French Alps. Most of the hotels and houses are built in French style. The town spreads through pine-covered hills. The temperature is pleasantly warm in the daytime, and quite cool at night.
Today, Dalat is a beautiful tourist town. A vast majority of visitors are both domestic and international tourists who are totally lured by the scenery, vivid blue skies, fresh air, flowery parks, and kind local residents. It is a favorite destination for companies, families, and honeymooners. Moreover, tourists will have great opportunities to go biking and hiking when coming to this gentle place. The high altitude and fertile landscape make Da Lat one of Vietnam's premium agricultural areas. In fact, this place produces a variety of fruits, vegetables and flowers that do not grow in the lowlands.
People who used to visit Da Lat will never forget Xuan Huong Lake, located in the center of town. It is now one of the main highlights of Da Lat. Also, it is a place where people can walk and enjoy the fresh air every afternoon. Next to Xuan Huong Lake is Top-peg Hill, which owns a large golf course. If tourists are keen on fresh flowers, Da lat Flower Park is their ideal destination. Indeed, every tourist is impressed by Da Lat's flower festival, which is named as the flowery heaven on the earth.
For couples, Valley of Love is their heaven. This place is named after its feature as a silent, graceful and green valley. Besides, there are many other highlights such as Lake of Sorrow, Tuyen Lam Lake, and Prenn Falls. They are worth visiting due to the awesome beauty and mysterious legend.
Well-known for its French architecture, Da Lat makes tourists amazed by its architectural works; for instance, King Bao Dai's Palace, Ngo Dinh Diem's villas, Hang Nga villas, and so forth.
At present, a variety of cheap packages are available on the website of Smile Travel Vietnam. Tourists will have opportunities to get surprisingly cheap tours if booking soon. It is noticeable that the current price is discounted by 30-45%. For more information, tourists can get access to the website or contact the online booking center.