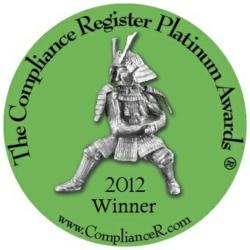 We set out to change what trading firms should expect from a transaction reporting service, and I am confident that our message is being heard
(PRWEB UK) 11 December 2012
The new approach to transaction reporting as a service brought to the market by Abide's Approved Reporting Mechanism (ARM) service continues to win the approval of the industry, with a win at the Compliance Register Platinum Awards.
Less than a year after being approved by the FSA, Abide's TransacPort platform was shortlisted against the LSE's UnaVista offering for the title of "Best Transaction Reporting Solution 2012." Abide was delighted to have been given the award, which the company sees as a testament to the focus given to eradicating cost, increasing flexibility and improving the accuracy of trading firms' transaction reporting processes.
"We set out to change what trading firms should expect from a transaction reporting service, and I am confident that our message is being heard. As well as the vote of confidence shown by our winning of the Compliance Register award, firms are voting with their feet and moving to our high-value services, and making significant savings while doing so," said Collin Coleman, Managing Director of Abide Financial.
Abide has launched a number of enhancements to the TransacPort service during the year, including an advisory capability included within the service cost, and a dedicated high-frequency trading reporting service, focused on offering appropriate functionality at a price point that supported their particular business models.
In addition to transaction reporting, Abide launched its' Financial Transaction Tax Declaration Management Service, helping firms to manage the burgeoning complexity created by the administration of this tax across multiple jurisdictions.
Abide now turns its' attention to the up and coming EMIR requirements for Trade Repositories, to ensure its existing and future clients get maximum benefit from Abide's TransacPort platform.
"We've got some great new services planned for next year, and we're busy hiring brilliant people to deliver them, and to keep up with demand for our current services. We've built our business so far on delighting our customers with a bespoke service at a commodity price by the smart use of new technology built by very talented people and we are going to continue investing heavily in this model."
"We are going to start the new year full of the energy required to continue our mission to change the way this market works, for the better," Coleman concluded.