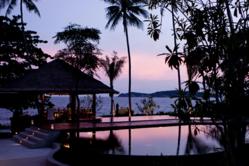 Samui , Thailand (PRWEB UK) 12 December 2012
Award-winning AKARYN Samui Resort and Spa last night launched its signature restaurant, Ochos, at a glittering invitation-only dinner event - and in doing so introduced a creative and playful new approach to tropical fine dining on the famed island.
The evening was hosted by AKARYN Samui Resident Manager Alex Castaldi who welcomed 24 local and international VIP guests to enjoy the dining experience at the unveiling of one of the most eagerly awaited restaurants on Koh Samui.
Ochos - which means 'eight' in Spanish - offers a new way of experiencing fine dining: uniquely Asian takes on tapas, with diners choosing from any combination of 3 (Tasting), 5 (Chef's Recommendation) or 8 (Degustation) to share.
Ochos introduces bold new flavours such Ratatouille with Homemade Olive Oil Ice Cream Quenelle, Scallop Breaded in Cardamom with Coconut Sticky Rice Cake and Pineapple Chutney, Oxtail Brick with Beetroot Jus, and Marinated Monkfish in Lime Juice and Saffron with Chorizo Foam.
Diners can pair their selections with Sangria or the wine of their choice - always starting with a glass of bubbly each to prepare the palate for an unforgettable journey to the wilder shores of culinary creativity.
"It's an intimate dining experience so reservations are recommended," said AKARYN Samui owner and AHMS Collection founder Anchalika Kijkanakorn. "We are absolutely delighted to be open and welcome our first guests last night."
"The chef's table is the most sought-after in the house, where diners have front row seats to the theatre show kitchen and experience up close and personal the craft of Ochos' celebrated chef Cyril, who earned his stripes at the one Michelin-starred Le Divellec in Paris."
"There's also a long table in the centre of the room, which is the place to be to meet fellow travellers, share stories, and celebrate the joy of exceptional food and fine wines. Romantic candlelight dining under the stars is also available. I'd describe the food as modern Mediterranean with a twist, deconstructed and simplified, using the best of locally available fresh ingredients where possible."
Mr Castaldi said the wine list at Ochos was as dazzling as the menu. "What we have here is very special. We have a very rare bottle of French Bordeaux, Chateau Latour 1996, which Robert Parker described as 'A spectacular Latour' and 'the modern day clone of the 1966, only riper', owing to that year's perfect weather.
"This vintage, which is so variable in Pomerol, St-Emilion, and Graves, was fabulous for the late-harvested Cabernet Sauvignon of the northern Medoc," Mr Castaldi said. "An opaque purple color is followed by phenomenally sweet, pure aromas of cassis infused with subtle minerals.
"This massive offering possesses unreal levels of extract, full body, intensely ripe, but abundant tannin, and a finish that lasts for nearly a minute. Classic and dense, it displays the potential for 50-75 years of longevity. Although still an infant, it would be educational to taste a bottle. Its anticipated maturity is 2015-2050."
Ms Kijkanakorn said Ochos would offer a 'wine buffet' to pair with the tapas, with a sommelier to assist diners make their choices. "Another Ochos signature will be an innovative 'molecular sangria' made with caviar bubbles of tropical fruits," she said "In terms of desserts, we will also serve cutting-edge 'smoking' petit-four platters."
What is behind the name? "Eight is a lucky number in Asia, and Ochos means eight in Spanish, so it fits with our tapas fine dining concept and deconstructed, simplified modern cuisine approach," she said. "We chose to base our menu on 3, 5 and 8, which comes from the Fibonacci Sequence or 'divine ratio' found throughout nature and in many great artworks.
Ochos is the destination dining experience that completes AKARYN Samui's Gourmet Village, a beachside boardwalk which includes The Legend, dedicated to rediscovering the culinary secrets of Old Siam, The Edge, where the best, freshest seafood is served with international flair, and The Wet Bar, the island's most chilled submerged bar.
AKARYN Samui is the group's flagship boutique resort on a private beach at Koh Samui's Hanuman Bay, recently winning Best New Luxury Hotel at the 2012 World Luxury Hotel Awards, as well as making it onto DestinAsian magazine's coveted Luxe List less than six months after welcoming its first guests.