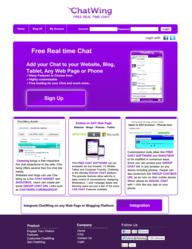 New York, NY (PRWEB) December 13, 2012
Researching is a very important activity in the Internet today. Through a meticulous and detailed research, websites can be created and web content are being published. Across the World Wide Web, thousands of research groups are created to deal with critical topics. To help research groups attain their goals, the Chatwing Development Team has launched a chat widget that ensures global connection in just seconds. The Chatwing tool can also be installed under a minute.
In the recent version of the Chatwing chatbox, customization options were overhauled. Chatwing users can now modify the colors separately and they can even add a background image of their choice. They can also select from Chatwing's collection of background images. Word filter option is still available; users just need to input profane words that may affect the credibility of the website. After that, the application will just detect those words automatically.
Research groups can benefit a lot from Chatwing's chat box because of the communication potential that it can offer. In just few clicks, users can access the social media and they can even use their Facebook and Twitter accounts as login options. Through the Chatwing app, research group members can also share links to their online references.
Without research groups, information progress will become slow and many factors will be affected. The Chatwing Dev Team will continue ushering support for these groups by creating new developments to the shout box. These platform upgrades will occur in few months, ensuring the stability and better speed of the Chatwing chat tool.
About Chatwing.com
Chatwing.com specializes in the new field of website chat. Over years, the Chatwing team has introduced live chat widget for hundreds and thousands of blogs. The Chatwing application bridges people from many parts of the world, creating global synergy through the Internet. The shout box can be installed in just seconds, and it can be used for varying purposes such as leisure and Internet marketing. It also allows a user to customize the size, color, and name of the widget.