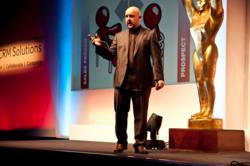 I have worked really hard over the last 10 years to provide our clients with valuable sales tips and training materials to boost their sales, so to win Sales Trainer of the Year would be amazing.
(PRWEB) December 12, 2012
The ISMM's (Institute Of Sales & Marketing Management) annual British Excellence In Sales & Marketing Awards are upon us again, and with the awards ceremony fast approaching this coming February we are delighted to announce that best-selling author and modern selling authority Sean McPheat is a finalist in the 2012 Sales Trainer of the Year Award.
Through this award, the ISMM are looking to recognise the dedication, value and excellence shown by professional trainers in the sales courses that they design and deliver – be that in-house, college based or private training providers. In order to win this prestigious award, the nominee must demonstrate excellent preparation skills, outstanding delivery of the training materials and show exactly what results were achieved as a result of their training programme.
Nominees for Sales Trainer of the Year are usually selected based upon one particular training programme they have delivered which produced exceptional results, but this year Sean McPheat has moved the goal posts for this award with his submission which covers all of the ongoing support, sales techniques, tips and training materials Sean supplies his clients with before, during and after they have attend the sales training.
For over 10 years now, Sean has been providing real value and ongoing support through his range of email tips, audios, videos, reports and training exercises which are distributed to over 25,000 sales professionals across the UK – which you can access at any time before, during or after a training programme completely free of charge. As part of his submission, Sean has collated the feedback of thousands of delighted sales people who have received his materials over the years, with many professionals actually dedicating some of their biggest successes and achievements in sales to Sean's weekly tips and techniques!
Sean McPheat, MD of MTD Sales Training, says: "I am absolutely delighted and honoured to be a finalist in this year's BESMA Awards. To win Sales Trainer of the Year would be incredible. It's so humbling to be recognised for my contributions to the industry. I have worked really hard over the last 10 years to provide our clients with valuable sales tips and training materials that they can actually use in the real world, and to hear that so many of our clients have got so much out my email tips, audios and videos is just brilliant."
Unfortunately we will have to wait until February 28th to find out who has won the prestigious Sales Trainer of the Year title, with the winner being announced at a lavish award ceremony at London's impressive Lancaster London Hotel. The BESMA Awards Ceremony is attended by the UK's top Sales & Marketing professionals and is often thought of as being the sales industry's equivalent of the Oscars, so the MTD team will be excitedly waiting to hear whether Sean McPheat brings home the award on the night.
Good luck Sean!
For more information about Sean and the range of open and in-house sales training programmes MTD has to offer please visit http://www.mtdsalestraining.com.