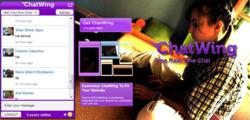 Dallas, TX (PRWEB) December 18, 2012
Chatwing Dev Team currently released a chat widget that allows global communication in quick and easy steps. This recent chat tool has certain innovations that can benefit the average web user or website owner. With the Chatwing chat tool, the relay of global information will become easier and websites will become reachable. Chatwing also offers wide options when it comes to customization.
Global information is important in many major aspects. Online businesses, far and wide, are affected by global information. Whenever there is news concerning important scenarios, people can get information through the Internet. Chatwing's chatbox can help people gain information through the premise of better website chat. Rather than waiting for information, Chatwing chatroom visitors can get it immediately. Moreover, Chatwing app allows social media integration so visitors can use their social media accounts as login options.
Chatwing chatbox has also been used in blogging sites because of its adaptability. In Wordpress alone, hundreds of bloggers have been using the Chatwing chat tool to gather high online presence regularly. Forum site makers are also using the Chatwing app to interact with their members at a better rate. A single Chatwing chatroom also has a 1000-user capacity, so the overall potential for global connection is really high.
The Chatwing Development Team is always supportive of the betterment of global information relay. Without global information, people will have a hard time dealing with their everyday online tasks. In order to cope with the dynamic changes in the online arena, the Chatwing chatbox will be subjected to more platform ugrades before 2012 ends.
About Chatwing.com
Chatwing.com specializes in the new field of website chat. Over years, the Chatwing team has introduced live chat widget for hundreds and thousands of blogs. The Chatwing application bridges people from many parts of the world, creating global synergy through the Internet. The shout box can be installed in just seconds, and it can be used for varying purposes such as leisure and Internet marketing. It also allows a user to customize the size, color, and name of the widget.