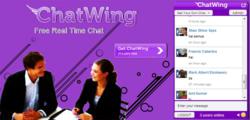 Houston, TX (PRWEB) December 17, 2012
Entertainment is one of the important factors that can drive traffic to any website. If visitors, for example, are not entertained, they tend to jump from one website to another. One of the best ways to entertain visitors is to give them a medium of communication. Chatwing accomplishes this goal by launching a chat widget that can initiate website chat anytime. The Chatwing chat tool is a versatile application, and it can be installed to any website.
According to the recent survey done by the Chatwing Development Team, the background image upload option has enticed hundreds of users. With this latest feature, the Chatwing chat box has become an entertaining ground for conversations. Many users have uploaded images related to music, fashion, current events, and even cute animals. With this flexibility, the Chatwing team has forecasted that more signups will occur in the next two months. Chatwing also lets users modify the appearance of the chatbox according to their preferences. Users can select from wide range of colors and they can set them up independently.
The Chatwing app can also take three form factors, highlighting its online accessibility. The first form factor is the actual shoutbox style. Once embedded, the shoutbox will occupy a moderate space in the website, depending on the size preferred by the user. The second form factor takes a smaller space—it showcases a 'chat now' button that visitors can click. Once clicked, the visitors will be taken to a separate pop-up window. The third form factor is called the vanity URL. With this feature, users can create their own usernames and shortlinks. They can send the shortlinks to their friends in order to start private group chats.
Chatwing's chat widget is now wedging through online competition. This is because of the company's dedication to the betterment of website chat. Apart from that, Chatwing's developers are always looking forward to the needs of the users. Also, to keep users well-informed, the Chatwing team is posting content on its official Facebook page.
About Chatwing.com
Chatwing.com specializes in the new field of website chat. Over years, the Chatwing team has introduced live chat widget for hundreds and thousands of blogs. The Chatwing application bridges people from many parts of the world, creating global synergy through the Internet. The shout box can be installed in just seconds, and it can be used for varying purposes such as leisure and Internet marketing. It also allows a user to customize the size, color, and name of the widget.