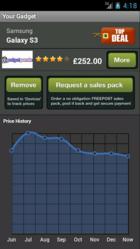 70% of consumers don't know the recycler value of their old household devices.
(PRWEB UK) 14 December 2012
Available on iTunes & Android here
CompareMyMobile.com is proud to announce the update of the Android application with all the features bundled with the release of the iTunes app.
Andrew Beckett, Co-founder and Commercial Director of CompareMyMobile.com says:
"CompareMyMobile strongly believe that mobile technology is intended to improve our lives rather than complicate them. So if there is a task that can be automated, or a process that can be made simpler through the use of mobile technology, then we would strongly urge consumers to take advantage of that ability. With that in mind we are extremely proud to introduce the all new and improved Android variant of the official CompareMyMobile.com application that allows financially conscious individuals to value their gadgets and invoke trade-in deals directly from the palm of their hand using only their Android device."
After undergoing a total redesign from the ground up the CompareMyMobile.com Android application still provides the first class mobile experience that the brand has been so publicly praised for in recent years. CompareMyMobile.com has packed those customer centric ethics into a finely crafted interface that has been designed to deliver excellence at all times. Although the CompareMyMobile.com Android application packs in a number of important features and sections for the user to interact with, they all form multiple paths that lead in to one main feature highway: Which is aimed at allowing customers to achieve the very best recycling values for their unwanted and unused mobile phones and consumer electronics.
With over forty different audited and trusted vendors offering their valuation services through the official application consumers are sure to be able to get the highest return for their kit at all times. The returned prices are live, provided in real-time and come with no gimmicks or hidden penalties. The price returned is the price that the consumer will received paid in full into their account through their chosen payment method.
The application also goes to the additional lengths of providing built-in, real-time depreciation graphs that aide in helping the user make an informed choice about whether or not it is the best time to part with their smartphones or gadgets or whether it's best to hang on for a little longer to get the highest price possible. All orders can be executed with the individual stores from within the application with full in-app support being offered and made accessible at all times with an active internet or data connection.

70% of consumers don't know the recycler value of their old household devices.
Over 40 Trusted and Independently Reviewed Recycler's compared.
CompareMyMobile.com tracks market prices daily and provides customer with a real time graph showing price changes.
CompareMyMobile.com is an independent price comparison site that provides free information on the value of a used mobile phones and gadgets from more than 40 recycling companies. All recycling partners are comprehensively checked for reliability, ensuring that the customer gets the best possible price and customer experience for their old handset and gadgets.
CompareMyMobile.com works with leading brands like Mazuma and Envirofone and independent user ratings mean if a company does not deliver, CompareMyMobile.com ceases its association.
About CompareMyMobile
Founded in 2009, CompareMyMobile.com is the UK's #1 source for independent mobile phone, tablet, sat nav, laptop, iPad, iPod and games console recycling price comparison. It delivers customers confidence in making the difficult decision of where to recycle their old phone safely and for the most money. CompareMyMobile.com is 100% impartial, comparing prices from more than 40 recycling stores.
Media Contacts
Andrew Beckett
CompareMyMobile.com,
Tel: +44 (0) 7810 882 278
Email: andrew(at)comparemymobile(dot)com