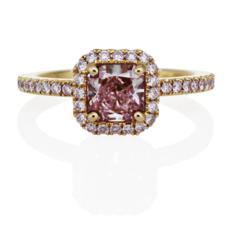 For exceptional diamonds of character the bespoke De Beers service enhances this individuality, providing a truly personal experience and an utterly unique engagement ring.
New York, NY (PRWEB) December 12, 2012
Five international bloggers were invited to De Beers stores in London and New York earlier this month to play out every girls' dream for the day and pick out their perfect De Beers engagement ring for when that special moment arrives. The bloggers were delighted to admire the beautiful De Beers collections and select their dream engagement rings.
Emily Johnston of Fashion Foie Gras was in awe of the De Beers magnificent carat weights and selected a wondrous 5-carat DB Classic Simple Shank ring, allowing the diamond to take all of the focus with a simple yet elegant setting. Writing on her blog, Emily said: "We were playing a little game called 'pick out your dream engagement ring' and I asked for the biggest one that De Beers had on the counter!"
Hedvig Opshaug of The Northern Light also went for a DB Classic Simple Shank, selecting a more understated look with a 0.7-carat diamond solitaire to complement her timeless, effortless contemporary style.
Peony Lim of Peony Lim matched her unique sense of style to the unique character of De Beers fancy cuts with an Asscher-cut Aura Pavé Ring, which accentuates the diamond's beauty and sparkle; having an exquisite halo of diamond thread pavé heroing a centre diamond.
Last to visit the London store was Gala Gonzalez of Amlul.com. With an eclectic and bohemian taste, Gala explored De Beers collections and chose the blossoming design of the Adonis Pink Gold Ring as her dream engagement solitaire. Inspired by the classical love story of Aphrodite and her Adonis, the De Beers iconic Adonis Rose ring is hand-crafted with the De Beers signature thread pavé and features round brilliant diamonds that draw the eye along the sparkling stem of the rose.
Visiting the De Beers New York store, Christine Cameron of My Style Pill opted for a De Beers 'diamond of character' with a beautiful and rare pink cushion-cut diamond centre. Surrounded by a halo of thread pavé diamonds, the Aura Solitaire ring was a stunning choice by a truly stylish blogger.
As a creation of nature, each De Beers diamond is unique and has its own story. For exceptional diamonds of character the bespoke De Beers service enhances this individuality, providing a truly personal experience and an utterly unique engagement ring.
Combine a De Beers engagement ring with its matching wedding band that sits perfectly together along the chosen ring, offering everlasting styles for every personality.
The De Beers Difference
De Beers, the Jeweller of Light, creates timeless treasures that reveal and celebrate the wondrous brilliance of women and diamonds. As the definitive destination for diamond jewellery, we have a quest for inner beauty, bringing lightness, femininity and delicacy to our sublime diamond jewellery.
Drawing on diamond mastery since 1888, De Beers hand-select each diamond for its unique beauty to capture unmatched Fire, Life, and Brilliance. Each unique De Beers creation is the culmination of wondrous artistry and the true beauty of the finest diamonds.
De Beers is proud to be the only brand to demonstrate the beauty of its diamonds, using the De Beers Iris. This proprietary technology, found in each De Beers store provides clients with an objective way to see the beauty of their diamond through the eyes of an expert.
The De Beers Guarantee
Each piece of De Beers jewellery is certified with a De Beers passport and each polished diamond above 0.20 carats is microscopically branded with the De Beers Marque. The De Beers Passport documents the specifications of your diamond jewellery and is your guarantee that every single De Beers diamond is natural, untreated, conflict-free and responsibly sourced and crafted. The De Beers Marque, using technology patented by the De Beers Group, is invisible to the naked eye and ensures that each diamond is individually catalogued in the De Beers diamond registry, confirming its identity as a De Beers official diamond, to provide clients with a total peace of mind.
De Beers Diamond Jewellers
De Beers Diamond Jewellers was established in 2001 as an independently managed and operated company by LVMH Moët Hennessy Louis Vuitton, the world's leading luxury products group, and De Beers SA, the world's premier diamond mining and marketing company.