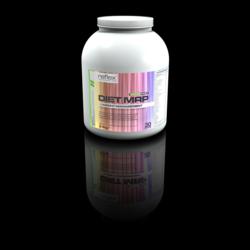 Reflex Nutrition is proud to announce that Diet MRP® sets new industry standards providing consumers with one of the best meal replacement shakes available in the World
Brighton, East Sussex (PRWEB) December 12, 2012
Reflex Nutrition is proud to announce that Diet MRP® sets new industry standards providing consumers with one of the best meal replacement shakes available in the World. Each mouth-watering shake delivers high quality nutrition on every level and easily exceeds the requirements of the EU Directive 96/8/EC ,"Foods intended for use in energy-restricted diets for weight reduction.
James Phillips comments, "Far too often meal replacement shakes are made using low quality grade proteins in conjunction with simple sugars like dextrose. Unfortunately most meal replacements are also providing very poor forms of vitamins and minerals, most contain magnesium oxide which is very poorly absorbed. If you are going to replace a meal with a shake we firmly believe that the whole shake should deliver in every area with the highest quality nutrition available. That means high quality forms of protein like whey protein, no added sugar and some of the most bioavailable minerals available. We're also delivering a near 50:50 split of protein to carbohydrates, something that makes a big difference when satisfying hunger."
Diet MRP® contains low glycemic index carbohydrates. A special carbohydrate blend of oats, barley and trehalose is the primary carbohydrate source in Diet MRP®. Lower GI sources of carbohydrates are broken down slowly, providing energy over a longer period of time, allowing for a more balanced release of energy than simple carbohydrate sources such as dextrose or sucrose which are used extensively in many other meal replacements.
Diet MRP® also contains a unique multivitamin and mineral complex that's simply not found in other meal replacements. Each serving of Diet MRP contains high quality amino acid chelated minerals, as already mentioned by James Phillips there are no cheap oxide forms of minerals like magnesium oxide or zinc oxide. Reflex Nutrition have also provided the formula with some of very latest nutrients like the very rare form of Vitamin E called Delta GOLD delta-tocotrienol, not to mention Menaquin GOLD Vitamin K2 MK7. A full vitamin B complex is also present with addition of Lactospore pro-biotics.
Diet MRP® joins the benchmark weight loss protein shake from Reflex Nutrition called Diet ProteinTM that has just received new packaging. The packaging that is used for both Diet ProteinTM and Diet MRP® moves away from Reflex's trademark black and holographic to white and holographic. The new look is being introduced across the entire weight management line of products to help consumers easily identify the nature of such products.
The extensive weight management range from Reflex Nutrition is made to very exacting standards. Each product is made in accordance with strict ISO9001 Quality Control Standards which includes testing each product for nutrition content and testing every single batch for protein content. The process guarantees that the consumer receives exactly what they paid for.
Diet MRP® is being launched in a 2.4kg tub which offers 30 servings for just £49.99