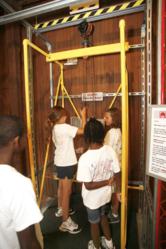 "Once you've experienced Hagley, you'll want to become more involved," says Hagley Executive Director Geoff Halfpenny. "Consider a family membership and enjoy Hagley for free throughout the year."
Wilmington, Delaware (PRWEB) December 13, 2012
February and March 2013 - Enjoy the picturesque winter landscape along the Brandywine at Hagley Museum and Library for $1 every Sunday in February and March 2013 (excludes Easter Sunday, March 31). Experience the warmth of the Steam Engine house and industrial ambiance of the Machine Shop, tour Eleutherian Mills, and dine at the Belin House Organic Café. One dollar admission gives visitors 235-acres to explore. Use Hagley's main entrance off Route 141 in Wilmington, Delaware.
Eleutherian Mills
A tour of Eleutherian Mills, the first du Pont family home built in America, reveals the stories of five generations of du Pont family members, from E. I. du Pont, founder of the DuPont Company, to Louise du Pont Crowninshield, his great-granddaughter. Tours of the residence are guided and run every half hour from 10 a.m. to 3:30 p.m.
Powder Yard
Walk through remains of the original DuPont gunpowder mills on a self-guided tour or stop to watch demonstrations of nineteenth-century equipment.
Belin House Organic Café
The Café will feature $1 hot dogs and blueberry lemonade every Sunday in February and March. It will also serve a seasonal menu.
Family Activities
Children and their parents will enjoy the exhibit "DuPont Science and Discovery." Gaze at polymers under a microscope, peer through a space suit, or pose for a picture in Jeff Gordon's #24 DuPont NASCAR. Take a short walk by the Brandywine to the "Easy Does It!" exhibit where kids can lift their parents on a platform and move a wheelbarrow with a fifty pound weight using simple machines.
Hagley Museum and Library collects, preserves, and interprets the unfolding history of American enterprise. The museum is located off Route 141 in Wilmington, Delaware. Call (302) 658-2400 weekdays for more information or visit http://www.hagley.org.
###