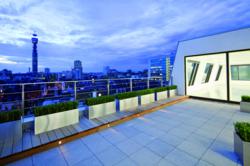 We are delighted to have attracted Havas/BETC London, a high profile company with an excellent covenant, to 20 Rathbone Place after interest from a number of companies.
London, UK (PRWEB UK) 13 December 2012
The 4,188 sq ft (389 sq m) top floor suite includes a terrace with imposing views of the West End and was recently constructed as part of Lothbury's complete renovation and refurbishment of the building into 41,500 sq ft of Grade A office space earlier this year.
Adam Smith, senior fund manager and director of Lothbury Investment Management, said: "We are delighted to have attracted Havas/BETC London, a high profile company with an excellent covenant, to 20 Rathbone Place after interest from a number of companies. The location benefits from a high concentration of technology, media and telecommunications companies being superbly located just to the north of Oxford Street and within easy reach of Tottenham Court Road Underground station. Rathbone Place is perfectly placed and will benefit from Crossrail too when it opens in 2018. The rent is one of the highest achieved in the Fitzrovia area."
Originally dating from the 1930s, Lothbury purchased the property 'off-market' for £23.2m in July 2010 and set about a comprehensive refurbishment programme. The redevelopment provided an additional 5,500 sq ft of Grade A lettable space, coinciding with a dearth of new supply in the market. Half of the building is let to Sony DADC and negotiations are taking place with prospective tenants for the last remaining floor.
Matthew Charlton, CEO of BETC London, said: "The sixth floor is truly spectacular. As an agency obsessed by style and beauty, this space is perfect. This is undoubtedly one of the finest spaces in Fitzrovia or Soho and we are delighted to have secured it amongst much competition."
Lothbury Investment Management operates a combination of well-managed core assets comprising prime, well-located, secured properties on strong covenants, generally on long leases, across a variety of commercial sectors, and with very low vacancy rates, complemented by an active portfolio running alongside it. The active portfolio is managed wholly by their own in-house team, generating additional value for investors in Lothbury Property Trust through the reconfiguration and refurbishment of existing core assets and the development of new sites. This has the benefit of adding new assets for the Fund without buying costs, as well as generating development profit. This strategy offers investors above average returns.
DTZ and Monmouth Dean acted for Lothbury. CFK acted for Havas/BETC London.
-ends-
Notes for editors
· Lothbury Investment Management Limited (LIM) is an independent investment manager of property unit trusts
· LIM was formed on 1st June 2010 following a management buy out (MBO) of the KBC Asset Management (UK) Limited business
· The MBO was led by Chief Executive, Simon Radford in conjunction with his four-strong management team
· LIM has already grown since the launch of the new business from £810 million to £1.025 billion assets under management as at Q3 2012
· The LIM Senior Fund Management team has worked together for the last 12 years and were previously responsible for the management of unlisted property funds at Gartmore Asset Management before joining the KBC Group in 2004
· LIM has two core funds, Lothbury Property Trust and The European Property Fund, providing investors with access to the UK and European property markets, as well as The Clarendon Unit Trust, The Secure Income Portfolio and one multimanager mandate for property funds
· Lothbury Property Trust (LPT), the flagship fund is a balanced property unit trust providing exposure to the office, retail and industrial sectors and is geographically spread across the UK. The Fund delivers an innovative investment solution through a core/active strategy that comprises a predominantly core portfolio of prime assets to achieve stability of return combined with active management initiatives to create additional value and an enhanced return for the investor
· As at 30 September 2012 LPT holds £738 m assets under management. It is an open-ended, ungeared fund that remains open to investment and has met all subscription and redemption requests without suspension or delay
· LPT has continued to outperform during 2012 and as at Q3 2012 the Fund recorded a quarter outperformance 1.1% against the IPD Pooled Property Fund Indices, All Balanced Property Funds Index Benchmark of 0.4%; the Fund is outperforming over Q3, 1, 3, 5 and 10-year periods
· More information on LIM and LPT can be found at http://www.lothburyim.com.