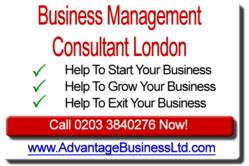 We are a premier Business Management Consultancy in London. Our team of experienced business management consultants will offer proven business advice coaching and consulting to help grow your company
London UK (PRWEB UK) 13 December 2012
Daryl Woodhouse, director of Advantage Business Partnerships, Ltd., was named one of the top three finalist for Young Entrepreneur of the Year in the Camden & Islington Business Awards (CIBA) 2012. The event was conducted by the Camden & Islington Chamber of Commerce and Daryl was also placed second in the Camden & Islington People's Choice Awards.
This year marked the second annual CIBAs to acknowledge the achievements of outstanding businesses based in Camden and Islington. The Young Entrepreneur of the Year Award was open to business owners age 21-40 who displayed exceptional business acumen and achieved consistent business growth since launching their product or service. The People's Choice category was voted upon by the public, with Daryl placing second from a field of 40 nominees.
The business management consultant London brings a wealth of experience to Advantage Business Partnerships, working with an extensive array of small grass roots organizations to national level retail and commercial banking. Daryl specializes in creative and strategic performance management techniques to facilitate greater success. The director is well known for his expertise in effective sales and marketing strategies, financial controls, time management and team building.
The business management consultancy London offers a comprehensive array of growth programmes to assist clients in taking advantage of high potential opportunities when they're presented. With the company's High Growth Advantage plan, the firm takes on critical tasks to help businesses achieve a competitive edge, while building a business that's constructed on a sound foundation.
Entrepreneurs are often immersed in several projects at once and the firm's Entrepreneur Advantage programme is specifically designed to assist clients through business management techniques, increasing efficiency and monitoring investments. Advantage Business Partnership is cognizant of the challenges entrepreneurs face and can help with business performance, reducing costs and driving sales.
In the new economy, many businesses owners have found their companies aren't performing to their full potential. Daryl Woodhouse and his team of professionals provide a Turnaround Advantage programme that offers intensive care and consultancy services to underperforming endeavors. They can offer assistance with key elements to identify a company's strengths and weaknesses and provide strategies to return it to health and profitability.
For newly launched or founded enterprises, the firm offers a Kick Start Advantage programme that offers low-cost and high-value. Advantage Business Partnerships will manage client relationships with accountants, banks and investors. The firm works with an extensive network of businesses to expand client bases and suppliers, seek new customers and manage reputations.
The prestigious Camden & Islington Business Awards bestowed upon Daryl is a testament to his effectiveness within the business arena and the culture of ethics the company encompasses. The business management consultancy London firm offers a one-stop resource to assist businesses expand or build upon current success, and help turn around underperforming enterprises, transforming them into profitable and thriving endeavors.
Located at 55-59 Shaftesbury Ave., London, W1D 6LD, the firm can be reached by phone at 0203 3840276. For more information please visit our website