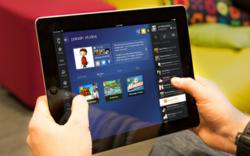 "We are excited to partner with this company that shares our vision offering fun ways to get people to give to charity. The launch will change the way people perceive gaming, and we are proud to be a part of it."
The Hague, the Netherlands (PRWEB) December 12, 2012
Gramble and charity-lottery operator Novamedia today announced that they are expanding their relationship through a second round of seed funding from Novamedia for Gramble's charity-driven, cross-platform online social gaming network, which is set to launch in beta on December 20.
Novamedia, which became a foundation investor and strategic partner of Gramble's this past May, is the third largest private charity donor in the world, operating five charities lotteries across Europe, with $7 billion USD in donations made and counting. Its ambassadors include Nelson Mandela, Bill Clinton, Rafael Nadal, Mohamad Yunus, and Sir Richard Branson.
On the back of its win at the Baby Tycoon Entrepreneur of the Year awards for best new start-up in the Netherlands, Gramble has received $2.7 million in its fourth overall seed round. Alongside Novamedia, Gramble World BV has attracted two other high profile strategic investors and is attracting further investors in 2013 to support the finalization of its play for real money social gaming network called iGramble.
"We're impressed with Gramble's progress, innovation, and growth since our initial investment," explains Boudewijn Poelman, CEO of Novamedia, who was recently knighted for his work with the company. "Most importantly, we are excited to partner with this company that shares our vision offering fun ways to get people to give to charity. The launch will change the way people perceive gaming, and we are proud to be a part of it."
Gramble gives players an opportunity to make a difference by donating a percentage of money generated by their activity to charities or NGOs of their choice. Every time a player clicks an ad or stocks up on currency on the Gramble network, money goes to charity (Charity Video Preview).
"Having the continued support of a successful organization like Novamedia gives us growing momentum," says Adam Palmer, Gramble's founder. "We're extremely excited about our upcoming launch and we can't wait to see our team's hard work translate into fun for players and donations that will improve lives around the world."
Along with helping charities, Gramble will offer players an immersive social gaming experience with exclusive features that enhance gaming with unprecedented social interaction. Players will be able to challenge friends, chat across games, share achievements, and follow all their social feeds live during game-play. Game progress can even be saved across devices, so players can pick up right where they left off on their computer, smartphone, tablet, etc. (Player Video Preview).
About Gramble World
Gramble, part of Gramble World BV (http://www.grambleworld.com), offers a truly progressive social-gaming experience, both technologically and socially. On Gramble, game progress stored on online servers ports from device to device – from smartphones to tablets, PCs, and internet-enabled TVs. Hence, players can pick up their game right where they left off, anytime, anywhere. Players will also be able to challenge friends; compete on leaderboards; share achievements; follow friends', developers', and charities' activities and updates; and catch up with friends, no matter what they're doing on the site, via our global chat system. Better yet, a portion of all revenues generated on Gramble through player ad clicks, purchases, and activity with Gramble's business partners go to charities. Players can even pick which charity partners get the money their playing creates! Gramble offers players a deeper level of interaction with both charities and developer partners, who can build their fanbase on the network through their own dedicated profiles.
Gramble is launching its web app Gramble.com on December 20, with downloadable apps to follow in the App Store and Google Play. Developers who want to get their hands on our super-simple SDKs and learn more about retaining full rights to their own IP through hosting with Gramble are invited to learn more and contact us here.