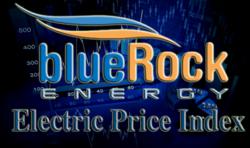 The BlueRock Energy EPI marks the first time a market-based daily index has been provided to the retail electricity markets in the State of New York
SYRACUSE, N.Y. (PRWEB) December 11, 2012
BlueRock Energy, Inc., the premier provider of electricity, natural gas and green energy products to businesses and residents in New York State, today launched the "BlueRock Energy Electric Price Index" (EPI), available at http://www.bluerockenergy.com. Developed to provide price transparency to business and residential energy customers, the EPI displays the daily wholesale price of electricity delivered to utilities in Central New York. Publishing the EPI marks the first time a market-based daily index has been provided to the retail electricity markets in the State of New York.
The EPI allows energy customers in New York to easily calculate the difference between the wholesale electricity price in Central New York and the retail electricity price - what they actually pay for on their energy bills.
"We believe that New York energy customers should be informed and educated regarding the cost components of electricity that they are consuming and paying for," said Phil Van Horne, CEO of BlueRock Energy. "BlueRock is the only Energy Service Company providing this level of transparency to customers, and we aim to make it easy to understand how energy pricing works."
The EPI represents the price per kilowatt hour of electricity usage aggregated over a 30-day period. The EPI incorporates the wholesale electricity costs associated with generation and transmission of electricity to a utility in Central New York for consumption by a typical small commercial or industrial customer.
The underlying formula for the EPI includes published energy and supply cost data from the NY Independent System Operator. The EPI is not intended to be an offer to sell or purchase electricity by BlueRock Energy, but serves as a reference Index Price for the wholesale price of electricity delivered to a Central New York State price hub. Similar to other market indices, it is not a forecast of future prices, but rather a measure of the actual market daily price.
As BlueRock Energy expands its service provision to other energy markets in the Northeast and New England, energy customers can expect to see similar price indexes specific to each local region.
About BlueRock Energy
Founded in 2003, BlueRock Energy, Inc. provides electricity, natural gas and green energy products to more than 13,000 customers across the deregulated markets of New York State. With more than 100 years of Executive and Management experience in the energy industry, the team at BlueRock Energy offers its business and residential customers unique managed portfolio plans designed to keep it simple while saving money. The company is also an active member of the local community, and its renewable energy products come from 100 percent New York State generated sources. BlueRock Energy is a privately held energy services company (ESCO) licensed by the New York State Public Service Commission (NYPSC).
To learn more about BlueRock Energy, please visit http://www.bluerockenergy.com.
###