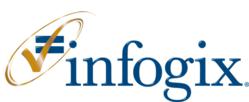 Naperville, Ill (PRWEB) December 11, 2012
Infogix Inc., a developer of business operations management software, today announced that Topaz Shared Services, LLC (Topaz) has selected Infogix's reporting and visibility software to help ensure the accuracy and reliability of Topaz's customer data. Topaz offers an integrated technology solution for its Blues Plans customers, and the combination of Infogix's software and services will ensure Topaz's customers' data is accurate and reliable as they entrust their business to Topaz.
"Infogix will provide the automated controls and reporting around the administration and delivery of sales, enrollment, billing and customer service to ensure customer data is accurate and reliable, and to help streamline operational efficiency and reduce costs," said Ian Gordon, CEO of Topaz Shared Services. "We recognize the importance of a strong, controlled environment and are committed to providing this capability so our customers can focus on servicing their customers."
Topaz will implement a number of products that are part of Infogix's Controls and Visualization Suites:
Controls Suite

Infogix Assure provides the capabilities to implement automated information controls that detect data errors across business operations and the enterprise. By allowing critical processes to execute with streamlined trustworthy data, businesses can reduce costs and unnecessary validation efforts.
Visualization Suite

Infogix Insight provides a dashboard that enables users to view the definition, status, results and history of all controls to help streamline auditing and compliance efforts. This includes the capability to monitor controls, view trending and track exceptions, giving customers the visibility into the detail of possible problems.
Infogix Nexix enables users to view all of a company's KPIs, controls, business processes and reports, and combine data and external URLs by bringing them into a personalized view to monitor all business operations.
Infogix Perceive provides real-time analytics into a company's operations, gives users the ability to merge reconciliation and control operations, as well as the ability to create templates, schedule reports and develop ad-hoc reports. Combining these functions allow users to analyze their company's data based on their own customized needs within their own special environment.
Topaz is partnering with health care information technology company The TriZetto Group, Inc., to provide integrated technology and services solutions for Topaz. The solutions help simplify health care for everyone, improve collaboration among payers and providers, and enable greater efficiency and effectiveness in health care.
"Topaz can serve as a model for all providers and payers who are reviewing their operations to determine how to ensure compliance with the new laws while also reducing the cost of operations," said Sumit Nijhawan, chief executive officer, Infogix.
About Topaz Shared Services, LLC
Topaz Share Services delivers an integrated technology suite that allows health plans to get new products to market faster, innovate more effectively and gain cost efficiencies. Topaz Shared Services was formed by Blue Cross and Blue Shield of North Carolina (BCBSNC) and Blue Cross and Blue Shield of Kansas City (Blue KC) in response to impending market changes brought about by the Affordable Care Act, increased competition and the need to offer consumers new options. The Topaz integrated technology solution will be operational for business effective January 1, 2014.
BCBSNC and Blue KC are independent licensees of the Blue Cross and Blue Shield Association. The cross and shield are registered marks of the Blue Cross and Blue Shield Association; all other marks are the property of their respective owners.
About TriZetto
TriZetto provides world-class information technology and service solutions that help payers and providers work more efficiently and collaborate to deliver better health. TriZetto helps healthcare organizations enhance administrative efficiency; improve the cost, quality and delivery of care; address compliance; and compete to win in an emerging retail market. Payer solutions include benefits administration, care management, network management and portal platforms, as well as consulting, application management and business management services. For more information, visit http://www.trizetto.com.
About Infogix Inc.
Many of the world's largest enterprises depend on Infogix to transform their operations. Through the use of Infogix solutions, customers are able to control, analyze, and improve their operations by realizing the full value of the Infogix Business Operations Management solution. Since 1982, Infogix has been providing Infogix Controls Solutions to Global 2000 enterprises. Millions of Infogix Controls continuously monitor and assure the integrity of information in hundreds of enterprises each day. For more information, call +1.630.649.6800 (U.S, Canada, and International), or visit http://www.infogix.com today.
Infogix is registered with the National Association of State Boards of Accountancy (NASBA) as a sponsor of continuing professional education on the National Registry of CPE Sponsors. State boards of accountancy have final authority on the acceptances of individual courses for CPE credit. Complaints regarding registered sponsors may be addressed to the National Registry of CPE Sponsors, 150 Fourth Avenue North, Suite 700, Nashville, TN, 37219-2417. Web site: http://www.nasba.org