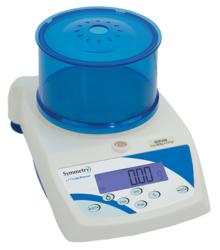 Vernon Hills, IL (PRWEB) December 11, 2012
With an updated design, the popular Cole-Parmer® Symmetry® EC Toploading Balances are an even more exceptional choice in weighing. For general-purpose weighing applications, these laboratory balances or weigh scales offer accuracy and traceability, including a print function for GLP compliance. The balances now include a bigger screen and easier-to-use keypad. A no-hassle single-unit draft shield is more durable and the balance's adjustable feet offer greater stability.
For operational ease, the balances feature a capacity tracker that warns of approaching overload conditions and a security lock-down port. The below-balance weigh hook can be used for density determination applications. An internal rechargeable battery offers convenient portability. The RS-232 interface allows for communication with a printer.
For more information on the Cole-Parmer® Symmetry® EC Toploading Balances, call 800-323-4340 or visit ColeParmer.com/19587.
Cole-Parmer has been a leading global source of laboratory and industrial fluid handling products, instrumentation, equipment, and supplies since 1955. Our product lines, including popular brand names such as Masterflex®, Oakton®, and more, are sold through company-owned customer channel outlets and a strong network of international dealers. We also feature an ISO-17025-accredited metrology lab for instrument calibration and repair. Cole-Parmer responds with excellence to customer needs, and offers application expertise and technical support. For more information, contact Cole-Parmer, 625 East Bunker Court, Vernon Hills, IL 60061. In the US, call 800-323-4340. International customers, call 847-549-7600. Visit us at http://www.coleparmer.com.