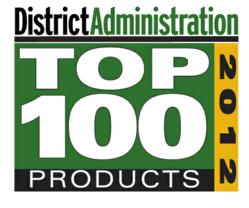 ELMO approaches the design, functionality and integration of its educational technologies in a way that makes it easy and enjoyable for teachers and students to utilize.
Plainview, NY (PRWEB) December 11, 2012
The ELMO Student Response System has been selected as a 2012 District Administration Readers' Choice Top 100 Product. With more than 1,000 nominations this year, a new record, the winners were selected by the editors of District Administration and were based upon both the quantity of nominations and the quality of reader descriptions. The complete list of winners has been announced online and in the December issue of District Administration magazine.
The ELMO Student Response System (SRS), features a handheld remote clicker that makes interactive lesson plans fun and easy for all K-12 students. With the ELMO SRS students are engaged with exciting visual effects like countdowns, graphics celebrating correct answers, and competitions for the fastest responders. It also encourages group work through exciting interactions and graphical interfaces.
The ELMO SRS aids teachers by recording student responses with the included "Image Mate Accent for SRS" software. Teachers can review students' performance and understanding of the material as well as analyze the student data in XLS, CSV, and XML formats. With the optional iRespond software, teachers can perform advanced analysis and grade management using edMastery®, Pinnacle®, GradeQuick® etc.
The annual District Administration Readers' Choice Top 100 Products award recognizes leaders in the education industry, and provides superintendents and other senior school district leaders with the unique opportunity to learn what products their colleagues around the country are using, and how these products contribute to the success of their districts.
"The ELMO SRS system is all about bridging digital classroom technology with interactive learning to enhance student interest, retention and academic performance. ELMO approaches the design, functionality and integration of its educational technologies in a way that makes it easy and enjoyable for teachers and students to utilize." Said Matt Takekoshi, President of ELMO USA, "It is a great honor to have this versatile product recognized by District Administrator and its readers'".
"The record number of nominations we received this year was astonishing," says District Administration's executive editor, OdvardEgil Dyrli. "There were so many excellent recommendations from school administrators who shared how the products made significant differences in their districts, and choosing the Top 100 proved to be challenging and difficult. We are delighted to announce the honorees for 2012 and trust that the list will be a valuable resource for our readers."
About District Administration
District Administration is the leading provider of smart management solutions for K12 administrators at school districts throughout the United States, and is the most-closely followed and most-widely read information source in the industry, bringing top-quality journalism to the unique issues, challenges and opportunities faced by K12 district executives. For more information, visit http://www.DistrictAdministration.com.
About ELMO USA
ELMO USA has been a leader in education technology for more than 90 years. The company's cutting-edge innovations are shaping the future of visual communications. Foremost among these innovations are teaching tools for dynamic classroom presentations. ELMO's groundbreaking document cameras and visual presenters benefit students by enabling instructors to incorporate stimulating high-resolution visuals into their lesson plans. These value-priced, full-featured teaching tools offer a level of interactivity and spontaneity that static transparencies or "one-dimensional, pre-planned" laptop and desktop computer lessons simply do not. For more information about ELMO's educational products, visit http://www.elmousa.com or call 1.800.947.ELMO.