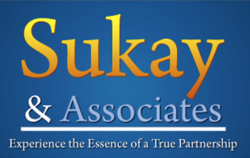 "We simply wanted to help great people achieve a very important goal."
(PRWEB) December 18, 2012
Sukay & Associates is proud to announce that it acted as the financial advisory firm for Behnke & Associates in its sale to Brown & Brown Inc.
The deal was completed this month and marks a high point in a successful year for Sukay & Associates, which has seen significant growth in both prospect lists and client book. Tom Sukay, CEO of Sukay & Associates spoke with pride about the transaction, "This deal was special for us. We started out as Behnke's financial advisor and ended up as friends. John and I want to sincerely thank the partners, Fred Behnke, Mark Introcaso, Gene McFadden and Scott Kinzel for their support during the process. They reinforced why John and I started our firm. We simply wanted to help great people achieve a very important goal."
Speaking about the acquisition, former Behnke & Associates President Fred Behnke spoke about the value Sukay added to the deal. "Tom (Sukay) and John (Biasiello) have so much experience, you can just sit down and listen to those guys and you learn a lot. They made us see the agency from the outside looking in and really reminded us of what we had. I have no doubt that they enhanced the value of the agency."
He went on to talk about the vital role Tom Sukay played in the sale, "Tom was the clincher. When we spoke to him we could tell he had vast experience. He explained the whole process to us, gave us the highlights and left us with a clear picture of how it would work. From the first conversation Tom put us at ease and helped us believe that we would get a fair price for the agency. That was very reassuring. We knew we'd made the right decision."
When asked to sum up Sukay & Associates role in the deal, he said, "It really felt like we had brothers involved in this process with Tom and John. You get the feeling that these guys care about your needs; they want to make sure you achieve your goals."
Sukay & Associates, Inc. is a financial advisory firm that focuses exclusively on representing insurance brokers in business transactions. Its advisors work closely with a limited number of clients, at one time, to ensure that they exceed expectations and deliver superior results. Sukay & Associates was founded because of a real need for advisors who have been responsible for the execution and the post closing success of a deal.