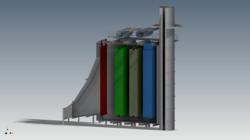 The introduction of HRSGs completes our offering for gas-fired power generators, adding to the success of our patent-pending selective catalytic reduction (SCR) systems and our other gas turbine products, said Harry Wilmot, President & COO
Orlando, Florida (PRWEB) December 11, 2012
ATCO Emissions Management (ATCO) announced today the addition of heat recovery steam generators (HRSGs) to its comprehensive line of gas turbine auxiliary equipment for the power, oil and gas, and cogeneration markets. The new HRSG product, an energy recovery heat exchanger that recovers heat from a hot gas stream, will initially serve organizations with gas turbines up to 100 MW.
Environmentally progressive companies and those looking to make cost savings by producing heat or power by recovering energy from waste heat or renewable energy sources will benefit with the implementation of HRSGs. Some companies take it further and use HRSGs as part of a long term goal to meet carbon emission targets. Currently, in the United States and Canada, there are increasingly stringent emission regulations and the need for HRSGs is expected to increase.
"The introduction of HRSGs completes our extensive offering for gas-fired power generators, adding to the previous success of our patent-pending selective catalytic reduction (SCR) systems and our other gas turbine products," said Harry Wilmot, President & Chief Operating Officer, ATCO Structures & Logistics.
"Currently, our HRSGs are designed for gas turbines up to 100 MW, for use in power plants at hospitals, universities, electricity generation facilities and at remote oil and gas operations. The adoption of HRSGs will allow these institutions to be "greener" and energy self-reliant," explained Harry Wong, Sr. Vice President & General Manager, ATCO Emissions Management. "The integration of our leading-edge NOx and noise reduction technologies with heat recovery has given us the ability to offer all acoustic, air emissions and heat recovery scope on gas turbine projects," added Mr. Wong.
Each HRSG is custom-designed in Minneapolis, then fabricated in OEM-approved manufacturing facilities across the globe. ATCO's product portfolio for gas turbine generators also includes combustion air filtration and intake silencing, anti-icing, acoustical enclosures, acoustical buildings, sound barriers, combustion exhaust silencing systems, catalyst systems for NOx and CO removal, bypass systems with diverter dampers and exhaust diffusers.
ATCO Emissions Management, a division of ATCO Structures & Logistics, provides noise and air emissions control and waste heat recovery systems for power generation, oil and gas, petrochemical and other industrial sites worldwide. To learn more, visit http://www.atcoem.com.
ATCO Structures & Logistics is part of the ATCO Group of Companies. ATCO Group, with more than 8,800 employees and assets of approximately $14 billion, delivers service excellence and innovative business solutions worldwide with leading companies engaged in utilities (pipelines, natural gas, and electricity transmission and distribution), energy (power generation, natural gas gathering, processing, storage and liquids extraction), structures & logistics (manufacturing, logistics and emissions management) and technologies (business systems solutions). More information can be found at http://www.atco.com.
Note to Editors:
The ATCO Emissions Management HRSG product team is at Power-Gen International, held in Orlando, Florida Dec 11-13, 2012 at booth #4639. Based in Minneapolis, Minnesota, the team is led by Jeff Davis, B.S. ChE, General Manager; Dan Robertus, P. E., B.M.E, Director, Sales; and Rick Zeigler P.E, B.S. CE, Director, Engineering. Together, their team has over 120 years of boiler design and engineering experience.
For media inquiries or further information, please contact:
Alisa Charkova
Senior Advisor, External Communications
ATCO Structures and Logistics
Tel. +1 403 292 7769
Mob. +1 403 826 0961
alisa(dot)charkova(at)atcosl(dot)com