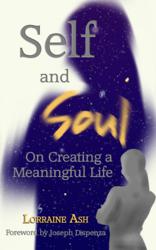 "Indeed our institutions and our families need individuals to imbue them with the strong faiths we each can bring - faiths born of experience, faiths deeply lived and individually grown."
New Jersey (PRWEB) December 12, 2012
Stillbirth parents worldwide know renowned New Jersey author Lorraine Ash, as a companion and champion who opened a conversation about their losses in her book, 'Life Touches Life: A Mother's Story of Stillbirth and Healing.' Now she returns with 'Self and Soul: On Creating a Meaningful Life' and she remains a guide in the new taboo terrain — aging and meaning.
In 'Self and Soul' Lorraine holds firm in her approach that what happens within us — in the places taboos and conventions will not touch - are the most important places of all. Our inner landscapes, she contends, are the places where we first need to bring the light of acceptance and understanding. They are the places all growth and progress begin.
Lorraine said, "There is still an enormous taboo when it comes to discussing stillbirth in the general population, where it's considered an indulgence in depression, and among doctors who still think of a stillbirth as a failure - not a challenge. It's the parents and the nurses and counselors who are growing a subculture of support that is, happily, spreading quite nicely to meet those who need it. Thank God that circle exists. However, outside the circle people don't expect, or get, much consideration."
Lorraine had a typical stillbirth in that it was an emotionally traumatic event that challenged her religious views and left her without direction. When she encountered a cultural refusal to talk about stillbirth, she set out to find answers on her own — not just to pierce the taboo, but to help other women who were facing the same situation.
Originally, her many workshops and classes helped other women come to terms with the loss of not only their child but also the dreams they had for the future. Lorraine, however, has since built on this foundation and now also focuses on helping people in midlife mine and write their own life stories for meaning and purpose.
It's only when people honestly witness and articulate what happens to them, and how they truly feel, that taboos get broken down. Words erode the silences upon which taboos thrive, according to Lorraine, and it's important not to let our true and beautiful selves languish in the shadow of a taboo.
Lorraine said, "'Self and Soul' is about personhood: it encompasses the stillbirth as one part of a larger journey. I wrote 'Self and Soul' to show the larger arc of my journey and tell, first to myself, how to keep my personal faith alive in a world that is uncertain and often cruel."
Along the journey, she realized she is responsible for keeping the divine flame inside her tended. Her writing helps her do just that. She teaches, she said, because writing helps other people do likewise.
"It's not the responsibility of any religious institution to keep faith alive, though a religious institution may help some people in that endeavor," Lorraine said. "Neither is it the responsibility of a family or any other group. Indeed our institutions and our families need individuals to imbue them with the strong faiths we each can bring - faiths born of experience, faiths deeply lived and individually grown."
'Self and Soul: On Creating a Meaningful Life' will be released in December 2012 by Cape House Publishing. It will be available on their website here http://www.capehousebooks.com/selfandsoul.htm
If you'd like more information, or to schedule an interview with Lorraine Ash, contact her through her press page at http://www.capehousebooks.com/selfandsoulmedia.htm