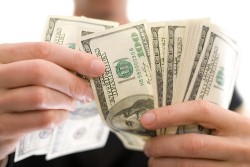 Digital label printing offers companies with short-run needs a very high-end, full-color product, even on a lower-end budget
Denver, CO (PRWEB) December 13, 2012
Lightning Labels, a custom label and sticker printing leader, encourages businesses and manufacturers to incorporate customized labels into their current marketing scheme in a new release of industry tips. Not only can personalization increase brand awareness, but it can give customers the impression that a product is high-quality and expensive - a factor that is desired by many consumers and manufacturers alike.
"Traditionally, big companies were the ones who could afford to take advantage of high-quality label printing, but times have changed," says Business Development Manager AnneMarie Campbell. "Digital label printing offers companies with short-run needs a very high-end, full-color product, even on a lower-end budget."
High-quality label design benefits:
Customized labels are used for many reasons - including branding and design purposes, giving instructions about how to use a product, to list ingredients and identify what a product is and what it is used for - but they are extremely helpful as a marketing device. Although some products themselves have the ability to catch peoples' attention, manufacturers may use custom labels as a way to portray the value of their product to a target audience.
With all of the competition for shelf space among products that have similar purposes, marketers are doing everything they can to stand out and gain customers. With this said, consumers are more likely than ever to compare products to ensure they are getting the best value for the price. Even the smallest-scale manufacturers can remain competitive and produce high-quality labels that capture attention and entice people to try their products.
Luxe labels are more affordable than ever:
Although large companies and manufacturers previously dominated the field of customized labels, that is not the case any longer. Technological advances in digital printing and the affordability of producing small runs of labels when necessary give even the smallest entrepreneurs, label-makers and manufacturers the ability to remain competitive and utilize expensive-looking labels, but without the added cost.
While some may assume that it costs more to print custom labels using multiple colors, it is actually a myth. Lightning Labels offers manufacturers with limited budgets and resources the ability to print labels using full-color graphics for the same price as it would be to print using just one color.
Label material quality matters:
Although custom labels can come in many shapes, sizes and concepts - whatever the manufacturer can dream up - Lightning Labels reminds consumers that materials do matter. If full-color printing and high-end design concepts are printed on mediocre materials, the purpose may be lost and the consumer won't appreciate the effort put into the label design.
Lightning Labels offers a variety of high-quality custom label and sticker materials, including attractive labels made out of Satin Cloth (a woven satin acetate cloth) and gold polyester - both enticing options that many assume are too expensive, but are accessible by even the most budget-minded manufacturers.
For those ready to run with these new marketing tips, Lightning Labels is offering special Holiday Savings: Take 10% off all orders (new and reorders) through December 18, 2012, using code HOLIDAY12 at checkout. Plus, Lightning Labels is giving away an iPad Mini to one lucky customer during December! The maximum discount for orders is $1,000. Free ground shipping is also available on regularly priced orders shipped within the U.S. and Canada, though shipping charges apply for printed press proofs. This offer cannot be combined with any other offers or promotions. Orders placed using code HOLIDAY12 qualify as entry for the chance to win an iPad Mini. Lightning Labels is not affiliated, endorsed or sponsored by Apple®.
About Lightning Labels:
Lightning Labels uses state-of-the-art digital printing technology to provide affordable, full-color custom labels and custom stickers of all shapes and sizes, and now offers a full line of custom packaging products. From small orders for individuals, to the bulk needs of big businesses, Lightning Labels is equipped to handle and fulfill sticker, label and product packaging projects of all types. Best of all, like the name implies, Lightning Labels provides a quick turnaround to every customers' labeling and product packaging needs. Uses for Lightning Labels custom product labels and custom stickers include food packaging and organic food labels, wine and beverage labels, bath and body labels, and nutraceutical products, such as vitamins, essentials oils, and herbal remedies, as well as event stickers, adhesive window stickers and more. Lightning Labels strongly supports the development of environmentally friendly printing materials and carries EarthFirst PLA, a new kind of green label material made from corn instead of petroleum. While operating as a high-tech printer, Lighting Labels prides itself on its personalized customer service. Lightning Labels provides one stop shopping for all of your label and product packaging needs. For more information and to place orders online, visit LightningLabels.com. For the latest in packaging news and labeling promotional offers, find Lightning Labels on Facebook, Twitter (@LightningLabels), and Google+.