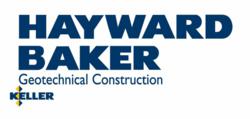 Centennial, CO (PRWEB) December 11, 2012
HB Wick Drains, a Division of Hayward Baker Inc., announces the promotion of Kevin C. Wikar as Area Manager for the Eastern United States. Based in Odenton, MD, near Baltimore, the office serves all states east of the Mississippi River.
In this position, Kevin Wikar succeeds Jim Warren who has become a business development manager. Most recently, Wikar served as a project manager for Hayward Baker in the Mid-Atlantic region, and managed numerous foundation and ground improvement projects since 2006.
Formerly, Wikar was with URS Corporation and was assigned as a resident engineer on the $2.4 billion Woodrow Wilson Bridge project (Washington, DC). Wikar is a licensed professional engineer in Maryland and Texas, and is an active member of the American Society of Civil Engineers and the Deep Foundations Institute. He holds a B.S. degree in Civil Engineering from the University of Lowell (MA), and an M.S. degree in Ocean Engineering (Geotechnical) from the University of Rhode Island.
According to James Cramer, Vice President of HB Wick Drains, the appointment of Wikar represents continued accessibility to new and existing clients in the area, and other benefits. "The eastern region is an important market for HB Wick Drains. Kevin's presence as Area Manager not only maintains our accessibility to clients in the area, his experience as a project manager with Hayward Baker makes him able to assist and direct our clients to the most appropriate team members at Hayward Baker for all of their ground improvement needs outside of wick drains," Cramer stated.
The Baltimore-area office HB Wick Drains is located at 1875 Mayfield Road, Odenton, MD 21113. For more information on the services offered by the office, or inquiries regarding potential projects, contact Kevin Wikar at 410-551-1980. For a complete listing of HB Wick Drains offices, visit http://www.hbwickdrains.com/locations.
About HB Wick Drains
HB Wick Drains is the leading wick drain installer in North America, and is headquartered in Centennial, CO, near Denver. Its commitment to provide well-managed and well-executed service has set the company apart since installing its first wick drains in 1984 as Nilex Construction.
HB Wick Drains provides the commitment, experience, and resources to complete projects on time and on budget anywhere in North America, the Caribbean, and beyond. Recent projects include Port of Los Angeles Berth 100, Port of Long Beach Pier T, Port of Charleston Container Terminal, and Chalmette, LA Levees.
On June 15, 2010, Hayward Baker Inc. acquired the wick drain and earthquake drain assets of Nilex Civil Environmental Group. Renamed HB Wick Drains, it operates as a product-specific division of Hayward Baker Inc. An experienced staff of office and field-based professionals continues to provide the highest quality service for which the company is known.
About Hayward Baker Inc.
Hayward Baker Inc. is North America's leader in geotechnical construction. Ranked by Engineering News-Record magazine as the #1 Excavation/Foundation Contractor, Hayward Baker is the industry leader in applying ground modification technologies to site improvement and remedial work, with a 60-year record of experience. A wide range of technologies are employed in providing foundation support and rehabilitation services, as well as settlement control, structural support, site improvement, soil and slope stabilization, underpinning, excavation shoring, earth retention, seismic stabilization, and ground water control. Every service provided by Hayward Baker is designed to be the most effective, cost-efficient solution, based on a proven track record of performance in the field.
Hayward Baker services are provided through a network of more than 20 company-owned offices and equipment yards across the continent, with recent expansion activities adding new offices in Salt Lake City and Toronto.
Hayward Baker Inc. is part of the Keller Group of companies, a multinational organization providing geotechnical construction services throughout the world. Web site address: http://www.keller.co.uk.