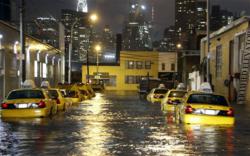 Humanitarian and disaster response is a layered and multifaceted complex system of invested stakeholders, criss-crossing operational levels, and overlapping missions and goals.
Washington DC (PRWEB) December 11, 2012
Effective disaster response requires concerted efforts by government at all jurisdictional levels, coordinating with a network of nongovernmental organizations, and the private sector. The Security and Sustainability Forum's, "Shaping Urban Resilience: How Government and Nongovernment Organizations Work Together in Disaster Response and Preparedness" on December 13, 1:15-2:45pm EST, will explore how this network gets established, and how it engages with communities in disaster planning and preparedness.
Disasters like Hurricane Sandy draw on relief efforts from many different organizations, with differing priorities. As different stakeholders are all working toward the common goal of relief and rebuilding, communication between organizations and with affected populations is imperative. Take a look at this (prezi) presentation from FEMA's Field Innovation Team to see what they learned from Sandy response.
Thursday's discussion will draw on the expertise being gathered by the National Council on Science and the Environment's (NCSE) 13th annual conference, "Disasters and Environment: Science, Preparedness, and Resilience." Attend the conference in Washington DC with a special registration discount offered to the SSF community.
NCSE Director, Peter Saundry will moderate a panel of experts, including:

Joe Ruiz, Humanitarian Relief Program Manager at the UPS Foundation. Mr. Ruiz is responsible for efforts to enhance the disaster preparedness and response capabilities of the humanitarian community through key partnerships in the public and private sector that can benefit from UPS's logistical expertise and financial resources.
Kevin F. Kelley, Senior Director, Community Preparedness and Resilience Operations with the American Red Cross, where programs focuses on building community resilience before a disaster, by enhancing community collective action around preparedness.
Ellis Stanley, Vice President of Western Emergency Management Services at Dewberry LLC. Previously working in Atlanta-Fulton County and the City of Los Angeles, Mr. Stanley has over 35 years in the emergency management field, including training and leading emergency management delegations in 35 countries.
American Planning Association members can earn 1.25 credits for attending the webinar.
About the Security and Sustainability Forum
SSF is a public interest, membership organization that hosts free, live educational webinars. Sessions feature panels of global experts who address human health and welfare impacts caused by climate change and other environmental disruptions. The webinars outline how sustainable approaches to minimize environmental stresses can reduce instability and conflicts, thereby improving the physical and economic security of humankind. Our programs seek to not only educate our audience about sustainability and how it fits into their areas of interest and work, but also spark new ideas about resilient approaches and solutions.
Access to SSF's webinar archive is offered through a free membership program.