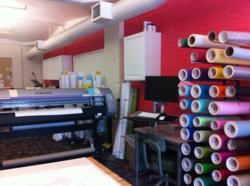 Moving all of the equipment here to the South Side has been liberating!
Pittsburgh, Pennsylvania (PRWEB) December 12, 2012
Started in 2007 by graphic designer and web specialist Bunny Giuliani, Right On The Walls® has expanded from a home-based vinyl wall decal company into one of the largest online retailers. They specialize in removable vinyl wall designs and word quotes — a hot trend in home or office decorating. Plus, they offer prints, customized gifts (cups, mugs, etc.), and gallery canvas wraps.
Right On The Walls also offers exclusive wedding accessories and décor — such as removable dance floor decals, aisle runners and matching table runners featuring the bride and groom's names or initials, and wedding date. The exclusive products are making a big splash within the wedding industry. This fresh idea is just coming into its own in the Pittsburgh area and local brides are sure to take notice this spring when Right On The Walls makes it's first local bridal show appearance.
"Moving all of the equipment here to the South Side has been liberating!" says Mrs. Giuliani. "We have a lot more room so I was able to bring in new employees, state-of-the-art printers, cutters and presses. Now we have even more flexibility to make whatever our customers need and want."
Since each wall space and every decorating place is unique, the creative staff designs and manufactures every order to exact customer specifications right in Pittsburgh — and then ships to customers across the US and all over the world. Right On The Walls products are always made-to-order, allowing for special requests in personalization, color, size and more.
###
Founded by a Pittsburgh native in 2007, Right On The Walls is a design and print company offering high-quality personalized vinyl wall decals, décor, and gifts for all occasions. Their mission is to help customers express individuality with custom and personalized products that are easy-to-apply, easy to remove... and always in style.