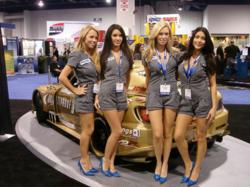 I believe 2013 will be an even bigger year for hiring promo models for events.
New York, NY (PRWEB) December 13, 2012
ModelsPromo.com, a model staffing agency located in New York City, has announced an international model search for promotional events and parties. Promo models aren't new -- they're seen at auto shows, trade shows, or pushing certain beverage or beer brands -- but less of them were seen after the economy's crash in 2008. However, 2012 has been seeing big increases in model hires, especially for strong industries such as beverage and alcohol vendors, manufacturing industries, and party planners who host lavish events for wealthier clients. ModelsPromo.com, one of the biggest modeling staff agencies in the world, is expanding bases to new cities and seeking models worldwide to promote their clients' brands and events to fulfill a unique marketing position sought by firms ranging from Red Bull to Elle Magazine who have used ModelsPromo in the past.
"I think this means the economy is starting to rebound," says Jen Lim, talent coordinator for ModelsPromo. "This year we have seen big increases in the number of requests for convention models, greeters, and event staff in costumes. I believe 2013 will be an even bigger year for hiring models for events." As people get better at ignoring traditional marketing such as television ads and online banners, some marketing agencies have found that using promo models fulfill the desired effect of getting the spotlight, no matter if it's at a business convention or dance hall.
Naturally, people are drawn to beautiful people and faces: it works as a sort of social proof and makes people flock around them, drawing attention and focus. Promotional models do everything from increase product or brand awareness to creating an association between the brand and a particular image. Models can even provide light services such as 5-minute massages. Because of the high demand over the holiday season, the firm is issuing a press release for a casting call. A potential model may apply for a position from a form on their website from any city in the world.
For more information on the expansion visit http://www.modelspromo.com or http://www.thermobuz.com.