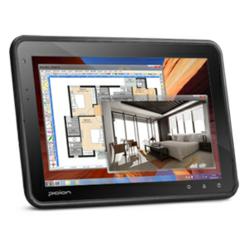 Pidion offers retailers the most verstile line of 7" and 10" rugged tablets.
Ellington, CT (PRWEB) December 18, 2012
Bluebird Soft and Yellowfin Distribution announced today that they will be showcasing their new line of 7" and 10" rugged Pidion tablets at the annual National Retail Federation "Big Show", January 13 and 14. The line includes:

The BP-50, a 7" Android tablet with hot-swappable batteries and an IP 64 rating
The BP-70, a 10" Android with an IP65 rating
The BP-80, a 10" Windows tablet featuring Bluebird's patented EyelluminateTM display technology for the sharpest, brightest screen available today.
All of these tablets feature dual core 1 or 1.6GHz processors, 15,000 mAh batteries for all day performance, a choice of WAN radios, 802.11a/b/g/n, GPS, and Bluetooth.
According to Frank Borghese, VP of Sales at Yellowfin Distribution, the Pidion tablets are available with an impressive assortment of accessories that make them ideal for the retail environment. "Retailers can add a bar code scanner, MSR and NFC card readers, and a variety of different handles to convert the tablet into a mobile POS device" Borghese said. "The large bright screens make them ideal for any management, operational, or selling function the store has including gift registry, inventory tracking, comparison shopping with customers and even things like planograms and visual merchandising."
John Gibson, VP and General Manager at Yellowfin, expects tablet sales to explode in 2013. "Many analysts say that tablets are already outselling PCs and will outsell laptops in the very near future", Gibson said. "We are committed to making the Pidion brand the leader in rugged tablets by offering more choices of screen size, operating systems, configurations, and accessories than any other brand, all with aggressive value pricing."
Retailers can get their first look at the full line of rugged Pidion tablets during the NRF EXPO in New York City's Javits Center, January 13 and 14, booth 2759.
About Yellowfin Distribution
Yellowfin Distribution, headquartered in Ellington, CT, is the North American distributor of the Pidion branded rugged mobility devices manufactured by Bluebird Soft of Korea. The company was founded by mobility experts, each with more than 25 years of industry experience. The company's goal is to help mobility resellers enjoy higher product margins while providing them with the rugged, high performance, and innovative solutions their customers demand. With an augment and complement service strategy, Yellowfin can also help resellers fill out their own service and solutions portfolios making them more competitive in the market and more valuable to their customers.
About Bluebird Soft
Bluebird Soft Inc. (Bluebird), founded in 1995, is a global provider of handheld mobiles devices including mobile POS terminals, rugged tablets, and EDAs. Their expertise ranges from enterprise and industrial handheld mobile computers, printer-integrated mobile computers, handheld scanners, handheld RFID, to Android handhelds. Bluebird is the only manufacturer focused on providing handheld mobile devices for both the AIDC market as well as payment operations under the brand name of Pidion®. We successfully adapt to emerging market trends through a broad range of innovative products, and pay close attention to the voice of our customers. With partnerships all over the world including Fortune 500 companies, Bluebird continues to grow and seeks to provide high-quality products at reasonable cost, while maintaining the flexibility to customize solutions based on your business needs. Bluebird HQ and its manufacturing facility are based in Seoul, South Korea and we have offices in USA and China to best serve our global partners.