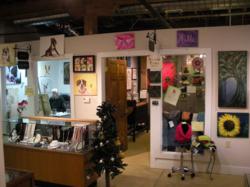 Wake Forest, NC (PRWEB) December 12, 2012
The Town of Wake Forest hosts Art After Hours each second Friday and the night comes alive with pedestrians and art lovers looking for a family friendly adventure and the shop owners on South White Street stay open and hold special events to coincide with this monthly art festival. The Cotton Company holds an artist reception on these Fridays to honor the Featured Artist and welcomes the public to enjoy mingling with local artists.
The Cotton Company is a boutique marketplace in the heart of Wake Forest's Historic Downtown District. Enjoy shopping over 50 different businesses and find unique handcrafted items throughout the store without sacrificing the some of the hottest brand names on the market. Now that our infamous streetscape has been completed, the new sidewalks are beautiful and pedestrian friendly with enhanced handicap access and eye catching details. We want folks to enjoy spending time downtown and with so much to offer it's only a matter of time before this small town secret is out of the box!
In December, The Cotton Company enjoys the exhibits of our Resident Artists, Dick Larsen and Doreen Tewksbury. These two talented artists are both so talented but offer completely different styles of completed works. Dick Larsen is famous for his custom dog portraits and still life works which hang in multiple exhibits across Wake Forest. And let Doreen Tewksbury fascinate you with her mastered hand at bold and bright Encaustic artwork. Especially for December the town is offering an ornament theme to the monthly exhibits. Visit our Gallery to see some beautiful hand painted ornaments from many local artists. Meet these artists and many more during Art After Hours this week from 5:30-9pm at The Cotton Company. And discover the wealth of artistic talent hidden inside the small town of Wake Forest.