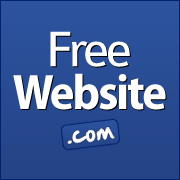 New York, NY (PRWEB) December 14, 2012
FreeWebsite.com released an article today presenting their roofing website templates. Roofers may think that because they can't provide their services online, they don't need a website. However, if they don't have one, they are missing out on the opportunity to market themselves to a broad customer base.
"Today, more than ever, people are using the internet to find the services they need," said a FreeWebsite.com representative. "If you aren't where customers are looking, they can't find you, but they will likely find your competitors and take their business to them."
"If you want to be successful in today's economy, you have to have a website," continued the representative. "It creates credibility and gives customers the information they need in the place they want to find it. Don't miss out on this valuable tool. Our roofing website templates will help you get started."
There are several roofing website templates from which to choose. There is a free plan for those who want to start smaller, but there are also premium plans available which will give you more options and help you build a stronger online presence. The staff at FreeWebsite.com will help you choose the plan that works best for you, as well as providing support both before and after you build your website.
To read the article, visit http://www.freewebsite.com/roofing-website-templates/
About FreeWebsite.com: FreeWebsite.com breaks down barriers to website ownership by providing attractive, easy to use websites, complete with content, at low prices. To learn more, visit FreeWebsite.com.