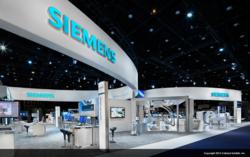 Pleasant Prairie, WI (PRWEB) December 18, 2012
Every year during the third week of November there's a time-honored holiday that's observed by Catalyst Exhibits. It's not Thanksgiving – though turkey day is eventually given its due recognition. Instead, it's the annual Radiological Society of North America (RSNA) meeting and trade show that creates buzz around the office. The RSNA represents one of the busiest times of year for Catalyst, requiring every member of its team to push hard throughout the week and provide clients with whatever support and assistance they need. Catalyst is pleased to announce that the hard work invested by its clients and staff resulted in hugely successful showing at this year's RSNA.
One of the largest medical meetings in the world, the yearly RSNA show brings together industry leaders to showcase leading developments and innovation in medical imaging and informatics technology. This year's RSNA meeting drew in over 60,000 attendees and 600 industry exhibitors. The five day long event was held November 25th – 30th at Chicago's McCormick Place.
By applying a marketing-driven approach to trade show exhibit design, Catalyst partnered with clients ranging from globally recognized corporations to promising start-ups. Using a variety of technologies including multimedia, branded architecture, sublimated graphics, and lightweight modular exhibit construction, Catalyst effectively showcased more than 15 separate client brands to the various stakeholders attending the RSNA show.
The 2012 RSNA annual meeting and trade show proved to be an ideal venue for Catalyst Exhibits and its clients to design and deliver world-class trade show exhibit experiences. The 2013 show is fast approaching, and Catalyst plans to be back with the same industry leading approach it displayed at this year's event.