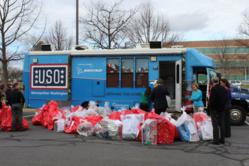 This program is just one small way of thanking military families for the sacrifices they make throughout the year, and we at TASC are grateful to continue this tradition
Chantilly, VA (PRWEB) December 11, 2012
Employees of TASC, Inc. collected and wrapped more than 1,000 toys for the Washington area's Project USO Elf, which benefits children of military service members. The toys are being transported by USO Santa Sleigh for delivery to the children at Ft. Belvoir and Ft. Meade on December 13.
"We're incredibly thankful to TASC and all their employees for their generous support of local military children," says Elaine Rogers, CEO of the USO of Metropolitan Washington. "Their enthusiasm and dedication to our troops and their families are absolutely contagious and truly warm our heart. It is because of the support of companies like TASC that we're able to fulfill our mission of lifting the spirits of America's troops and their families."
"About 300 TASC 'elves' participated in Project USO Elf this year," says Stefanie Wall, chair of the TASC Young Professionals Society community service committee, which sponsored the project. "This program is just one small way of thanking military families for the sacrifices they make throughout the year, and we are grateful to continue this tradition."
Project USO Elf is one of several holiday programs USO-Metro organizes for military families during the holiday season. Other activities include Turkeys for Troops, Trees for Our Heroes and Holiday Hotel.
To learn how you can support USO-Metro, go to http://www.usometro.org.