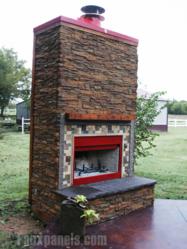 Earth's warm, grounded feel enhances all designs
Deer Park, NY (PRWEB) December 14, 2012
As part of it ongoing efforts to provide the best design options to architects, home owners and decorators, FauxPanels.com expands its popular Norwich line of siding panels by adding "Earth" to five of its styles. Indoors or out, Earth's warm tones will work with virtually any décor.
"Earth tones are so versatile; our customers can't get enough of them. Shades like Desert Sand, Sierra Brown and Golden Wheat have long been big sellers. The new Earth wall paneling fills a color niche the others don't, providing more decorating options," said Steve Barron, president of Faux Panels.
Decorative wall panels in Earth are both warm and neutral. Whereas Sierra Brown wall paneling has reddish undertones and Golden Wheat has yellow, Earth has the rich shades of freshly turned soil, making it the perfect backdrop for any décor
Norwich siding panels can be installed inside or out so whether you want to give your exterior a facelift, dress up a fireplace or add an accent wall, Norwich Earth will fit perfectly. Made of highly durable polyurethane, it'll look gorgeous even when facing wear and tear from children or extreme weather.
Even better, Earth is available in five styles, so whether you prefer Colorado stacked stone (regular or tall), Dakota stone wall, Kentucky drystack or Carolina random rock, you have a new color option that will look terrific. The Earth wall paneling even has a full line of accessories, such as inside corners, outside corners, ledgers, wall caps and more so you can create virtually any design easily.
Norwich panels also have special routered edges so they interlock perfectly, guaranteeing a straight, square installation. Thanks to their light weight material and easy installation, an expensive stone mason isn't needed. It's a great do-it-yourself project. If a contractor is preferred, the quick installation will save money due to decreased labor chargers.
Unlike genuine stone, Norwich siding panels aren't brittle so they won't chip. Termites and other pests have no interest in them. They maintain their great looks despite being exposed to bleaching sunlight, extreme heat or cold, and pounding precipitation without warping, rotting or fading. There's no need for time-consuming maintenance either.
"The initial feedback we're getting for the Earth panels is outstanding. The shades of brown it features are universally flattering so once that's combined with Norwich's other strengths like easy installation and durability, it's a home run, said Barron.
FauxPanels.com is an industry leader due to its huge selection of easy-to-install, low maintenance, realistic faux brick, stone and wood panels and columns, and outstanding customer service. Its products have been regularly featured on television shows such as "Celebrity Apprentice" and numerous appearances on "Extreme Makeover: Home Edition." FauxPanels.com is a subsidiary of Barron Designs Inc., a family-owned home improvement business operating since 1972. For more information, visit FauxPanels.com.