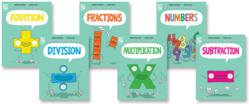 Chicago, IL (PRWEB) December 13, 2012
World Book, Inc. introduces its newest print set, Building Blocks of Mathematics, with a free online sweepstakes. Visitors to World Book's Numbers Need Love Too site can enter a drawing to win a set of the innovative six-volume Building Blocks of Mathematics by submitting their email address and favorite number.
Building Blocks of Mathematics features quirky characters drawn in exciting comic-book style that introduce and demonstrate critical basic mathematics concepts. Story problems help to develop students' conceptual understanding of the mathematical operations and teach them techniques for solving real-life math problems. Designed in collaboration with elementary mathematics education experts and aligned to the Common Core, this series is appropriate for kids who are just learning these concepts and older students who can benefit from review and reinforcement.
World Book's Numbers Need Love Too sweepstakes runs from Dec. 12, 2012 through Jan. 1, 2013. Winners will be announced on Jan. 2, 2013.
Ordering
Building Blocks of Mathematics is available at http://www.worldbook.com. School and library customers can order online or through their local World Book representative at 800-975-3250 (U.S.) or 800-837-5365 (Canada).
Special offer
World Book is offering a sale on select Christmas Around the World titles starting on Dec. 12, 2012. Twelve volumes of this popular series will be on sale for only $12 each, a savings of more than 50% off the regular price. The sale ends on Dec. 14.
About World Book
World Book, Inc. sets the standard in publishing accurate, current, and reliable reference and learning materials for children and adults. Based in Chicago, World Book is committed to creating educational products in print and digital forms that meet the highest standards of editorial excellence. This commitment has resulted in a wide range of products including the quintessential World Book Encyclopedia; the World Book Web, a comprehensive and authoritative solution meeting the diverse information needs of students, educators, public library patrons, and families; and World Book Classroom, innovative and effective teaching resources to improve learning in libraries, classrooms, and at home. World Book, Inc. (http://www.worldbook.com) is an affiliated company of the Scott Fetzer company, a subsidiary of Berkshire Hathaway, Inc.
Connect with World Book at facebook.com/WorldBook or twitter.com/worldbookinc.
Contact:
Jennifer Parello, 312-819-6558, jennifer(dot)parello(at)worldbook(dot)com