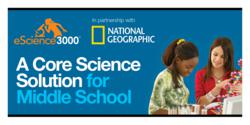 Developed in collaboration with National Geographic, eScience3000 personalizes science learning in an engaging, online environment that allows students to build literacy skills while gaining critical knowledge.
LAKEWOOD, NJ (PRWEB) December 12, 2012
Educators around the country agree:eScience3000™ is a top product of 2012. Selected from more than 1,000 nominations as a winner in this year's District Administration Readers' Choice Top 100 Product awards program, this unique core science solution for middle school combines the expertise of Achieve3000®, the leader in differentiated instruction, and National Geographic Learning, the premier provider of science content.
"The record number of nominations we received this year was astonishing," said District Administration's executive editor, Odvard Egil Dyrli. "There were so many excellent recommendations from school administrators who shared how the products made significant differences in their districts, and choosing the Top 100 proved to be challenging and difficult. We are delighted to announce the honorees for 2012 and trust that the list will be a valuable resource for our readers."
Educators nominate products that have made a positive difference in their school districts for the annual District Administration Readers' Choice Top 100 Products awards. The recognition provides superintendents and other senior school district leaders with the opportunity to learn what products their colleagues around the country are using and how these products contribute to the success of their districts.
"Developed in collaboration with National Geographic, eScience3000 personalizes science learning in an engaging, online environment that allows students to build literacy skills while gaining critical knowledge," said Saki Dodelson, CEO of Achieve3000. "We are proud that just a year after the program became available it has earned this prestigious honor. And we are especially proud that it comes directly from educators."
eScience3000 is an engaging, experiential program that changes the game when it comes to differentiated instruction for science. By making science accessible to all middle school learners, eScience3000 is helping meet STEM objectives to move U.S. students from the middle to the top in science achievement over the next decade.
eScience3000 is also designed to fulfill all district requirements for core science programs that meet 21st century educational needs with easily customized curricula that adhere to each state's science scope and sequence, and address the practices, concepts and core ideas outlined in A Framework for K-12 Science Education, in preparation for the Next Generation Science Standards (NGSS). eScience3000 provides compelling learning opportunities that help students succeed in the classroom and on state and national assessments.
For more information, visit achieve3000.com/science-solutions/escience3000.
About District Administration
District Administration is the leading provider of smart management solutions for K-12 administrators at school districts throughout the United States and is the most closely followed and most widely read information resource in the industry, bringing top-quality journalism to the unique issues, challenges and opportunities faced by K-12 district executives. For more information, visit http://www.DistrictAdministration.com.
About Achieve3000
Achieve3000 is the leader in online differentiated instruction, serving more than one million students across the United States. The company's web-based science and literacy solutions are proven to increase content knowledge, reading comprehension and fluency, vocabulary and writing proficiency for students in grades 2-12, and also for adult learners. Based on decades of scientific research, Achieve3000 solutions deliver engaging, nonfiction content that supports core curriculum, Response to Intervention, special education and other instructional models. eScience (for grades 6-8), KidBiz3000® (for grades 2-5), TeenBiz3000® (for grades 6-8), Empower3000™ (for grades 9-12) and Spark3000® (for adult learners) are aligned with Common Core State Standards for English language arts as well as individual state standards. Achieve3000 supports 21st century education initiatives across content areas and is raising student performance across the country. The company is based in Lakewood, N.J. Learn more about Achieve3000 online at achieve3000.com or call 888-968-6822.