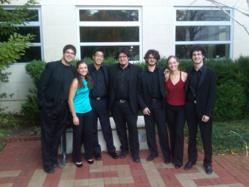 The Washington Post described the Marlboro performance as "so fresh and full-blooded, so full of earthy vitality and sheer sensual pleasure, that it made you happy to be alive."
New York, NY (PRWEB) December 12, 2012
The first Musians From Marlboro tour of the 2012-13 season recently ended in Boston. It featured six up-and-coming young artists performing alongside seasoned concert violinist, Soovin Kim. The other performers - major competition winners, string quartet members and the Principal Horn of the San Diego Symphony - were Itamar Zorman, violin; Lily Francis, violinist/violist; Milena Pajaro-van de Stadt, viola; Paul Wiancko, cello; Benjamin Jaber, horn; and Matan Porat, piano.
The program opened with a performance of Haydn's elegant String Quartet in A Major, Op. 55, No. 1. It was followed by György Ligeti's Trio for Violin, Horn, and Piano, in which Soovin Kim was joined by Benjamin Jaber on horn and Matan Porat at the piano. All the string players regrouped to finish the program with Mendelssohn's beautifully romantic String Quartet No. 1 in A Major, Op. 18.
The Washington Post described the Marlboro performance as "so fresh and full-blooded, so full of earthy vitality and sheer sensual pleasure, that it made you happy to be alive." The audiences in each city responded with equal enthusiasm to the program. The group visited seven out of the eight tour destinations; New York City, NY; Greenwich, CT; Schenectady, NY; Toronto, ON; Washington D.C.; Brattleboro, VT; and Boston, MA. The final concert of the tour in Philadelphia, PA had to be cancelled due to Hurricane Sandy.
What became the finale of the tour in Boston, MA was called "exactly the type of concert which the classical scene needs more of" by The Boston Musical Intelligencer. Luckily the classical scene will get more chamber music repertoire from performances by the Musicians from Marlboro in March and May of this season.
The Musicians from Marlboro touring program has introduced many of today's leading solo and chamber music artists to American audiences. The list includes pianists Jonathan Biss, Yefim Bronfman, Jeremy Denk, Richard Goode, Murray Perahia, András Schiff, and Peter Serkin. Traditionally, exceptional young artists play alongside veteran performers in concerts along the east coast and nationally.
Explore http://www.marlboromusic.org/tours/schedule/tour-schedule/ for concert listings and ticket information.
About Musicians from Marlboro
Musicians from Marlboro, the touring extension of the Marlboro Music Festival in Vermont, features exceptional young professional musicians together with seasoned artists in varied chamber music programs. Each program is built around a work performed in a previous summer that Artistic Directors Richard Goode and Mitsuko Uchida and their colleagues feel is exceptional and should be shared with a wider audience. The resulting ensembles offer audiences the chance to both discover seldom-heard masterworks and enjoy fresh interpretations of chamber music favorites. The Ligeti Trio was the work around which this tour was built. Over the course of the two summers, during which the three artists explored the work in depth, they had the unique opportunity of spending over ten weeks of rehearsal discovering the secrets of the piece. Their investment paid huge dividends with the cheers of audiences everywhere on the tour. For more information visit http://www.marlboromusic.org