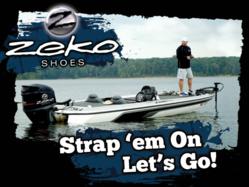 In the water, on the boat, to the winner's podium, Strap 'em on, Let's Go Fishing
Indianapolis, IN (PRWEB) December 12, 2012
Zeko Shoes is offering a potential of over $100,000 in total prize money for the 2013 fishing tournament schedule. Beginning January 1, 2013, all participants in the mentioned tournaments will have yet another way to dramatically increase their tournament winnings thanks to Zeko Shoes' "Strap 'em on, Let's Go Fishing" 2013 winner take all prize money. Zeko Shoes will be involved in all of the following tournaments for the 2013 season, FLW Tour, The Ever Start Series, The Walmart BFL Series, PAA tournaments, B.A.S.S. Opens, ABA Bassmaster Weekend Series, and B.A.S.S. Elite Series tournaments.
Zeko shoes are a high performance deck and fishing shoe that are perfect for your outdoor, active wear needs! Zeko shoes weigh less than six ounces; have a quick-dry upper mesh, and a ventilated Sole that Drains Both Air and Water. These deck and fishing shoes are very comfortable, super lightweight, and soooo cool that it's like having a breath mint in your shoe. Plus, if you step in the water, your Zeko shoes will freely drain the water right out the bottom so you're not standing in a sloshy shoe.
Zeko Shoes started in 2009 with the idea to produce the most comfortable and functional active wear shoe in the world. They leaped into National spotlight and the bass fishing world when they signed FLW Tour Pro and Forrest Wood Cup Champion Scott Martin to their team!!! You'll be able to see Zeko shoes in action on the following 2013 TV programs; The Scott Martin Challenge, Strike King Pro Team Journal, Timmy Horton Outdoors, Extreme Angler, Mr. Crappie, Christian Anglers, and BackWoodAnglersTV. You'll find that they are not only a great deck shoe and fishing shoe, but they are also a great active wear shoe that can be worn working out at the gym!
Zeko Shoes prize money details, social media information, distributor opportunities, and to buy a pair...or two are available online at http://zekoshoes.com. Also, be sure to check out the Zeko shoes video clips and photo gallery! In the water, on the boat, to the winner's podium, "Strap 'em on, Let's Go Fishing!