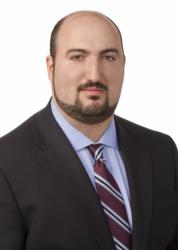 Washington, D.C. (PRWEB) December 11, 2012
Williams Mullen has added considerable experience to its antitrust team, as Eric Berman joins the Washington D.C. office as a Partner in the Litigation practice. Berman, who is joining the firm from Baker Botts LLP, brings a broad background in competition law, including regulatory matters, litigation, counseling and internal investigations.
"We're very pleased to have Eric on our antitrust team," said Thomas R. Frantz, president and CEO of Williams Mullen. "Having worked at both the FTC and top D.C. law firms, Eric will add significant value to our clients across numerous industries."
Berman has represented companies before the Federal Trade Commission and Department of Justice during the merger review process. He has also helped to secure antitrust clearance of global transactions from foreign competition authorities in the EC, Brazil, Canada, Mexico, Russia, and Korea. Eric also regularly represents third parties before the antitrust agencies, and has advised parties who raise competitive objections to mergers.
As a complement to his antitrust practice, Berman also focuses on consumer protection issues, helping businesses navigate laws regarding comparative advertising, claim substantiation, and compliance with FTC Trade Regulation rules and National Advertising Division decisions. Eric has served as the lead counsel to several manufacturers before the FTC's Bureau of Consumer Protection.
Berman received a B.S. from Cornell University's College of Human Ecology and his J.D. from The George Washington University Law School. He's a member of the D.C. and New York bar, as well as the American Bar Association's section of Antitrust Law and the DC Bar Association's Antitrust and Consumer Law section.
About Williams Mullen
Williams Mullen is an AmLaw 200 law firm that blends the law, government relations and economic development to help grow the business of our clients and the economy of our region across North Carolina, Virginia and Washington, D.C. Our attorneys and consultants strive to help connect clients to opportunities and solutions they need. Putting our clients' needs first has been the foundation of our approach since the firm was founded 103 years ago. Visit us at http://www.williamsmullen.com.