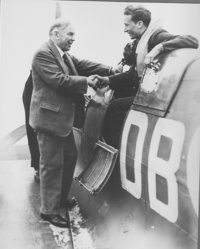 Ash's adventures are similar to the fictional role played by Steve McQueen in the iconic movie The Great Escape, but as the veteran POW escaper observes "in the real world, there was never a motorcycle around when I needed one."
(PRWEB) December 12, 2012
Bill Ash from Dallas, Texas, went from hobo to hero as he became a rare American Spitfire pilot with the Royal Canadian Air Force, battling in the skies over Britain and France. When shot down over Calais in 1942, he became one of the legendary POW 'escape artists' of the war, staging more than a dozen break-outs, over, through and under the wire in Nazi Germany.
He was one of a handful of real life 'Cooler Kings,' named after the Cooler of Solitary punishment cells where the Nazis sent him when recaptured. Ash's adventures are similar to the fictional role played by Steve McQueen in the iconic movie The Great Escape, but as the veteran POW escaper recalls, "in the real world, there was never a motorcycle around when I needed one."
Bill Ash, caught in the 1930s Great Depression despite starving his way through a degree at the University of Texas at Austin, was a hobo riding the rails when war broke out in Europe.
"I briefly had one job as an elevator operator in a bank. They knew I had a degree, but they agreed to overlook it," says the veteran, adding "Banks were no more popular then than they are now and I thought if I was going to be going up and down all day, I might as well do it in a Spitfire fighting Hitler."
In 1940, since the United States was still neutral, Ash rode the rails to Canada and trained as a Spitfire pilot. He flew combat missions over Britain and France and was eventually shot down in 1942. Helped by the French Resistance, he was eventually captured by the Gestapo, tortured and sentenced to death as a spy. Minutes before his execution, he was rescued by the Luftwaffe who put him in their famous Great Escape camp, Stalag Luft III.
Under the Wire tells how Ash thanked the Luftwaffe by making 13 escape attempts from POW camps across Europe in the following years – clambering over the wire under the eyes of machine gun posts, under the wire in tunnels, and sometimes straight though it with home-made wire cutters. His frequent bids for freedom made him one of the most prolific American escape artists of the War.
"We knew the more escapes we tried, the more men they would need to guard us and the fewer men they would have to throw at our troops when D-Day eventually came. And there was always the slim chance of a home run to freedom."
Ash eventually escaped for good in the last days of the war in 1945 and was awarded an MBE, one of Britain's highest honors, by the then King, George VI.
Bill's memoir, Under the Wire, co-authored with his friend writer and film-maker Brendan Foley, is available on Amazon at 33% off in the run up to Christmas. The book is already a best-seller in the UK where Ash settled after the war, working with the BBC for much of his career. He now lives very quietly, cared for by his family. No longer able to do interviews, he is said to be delighted his autobiography has become so popular and maintains his sense of humor. Speaking of one of his escape tunnels from POW camp he commented "I've discovered the secret of success. All you have to do is dig a hole and wait seventy years."
Under the Wire's first US paperback and Bill's first ever e-book celebrate his 95th Birthday. [Dec 2012]
"I started out as a little kid in the U.S. south west, listening wide-eyed to stories around camp fires, told by an old guy who genuinely rode with Billy the Kid and had his trigger finger shot off in a gunfight. I've managed to live long enough to publish my first e-book at the age of 95. We really do live in a remarkable world!" says Ash.
His co-author Brendan Foley comments: "It's rare to meet a genuine hero, but Bill Ash, despite his modesty and humor, is the real deal. He has always been more Huck Finn than John Wayne and he managed to keep his sense of humor in the darkest days of the war, and never, ever gave up".
Under the Wire, by William Ash and Brendan Foley
Paperback: http://www.amazon.com/dp/1481088858/
e-book: http://amzn.com/B00AF4I0K8