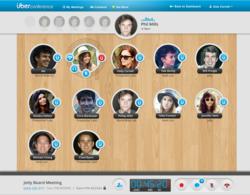 "We at UberConference will always strive to be the 'good guys' of communications by being fair, innovative, and relentless in our pursuit of creating the best communications products in the world."
San Francisco, CA (PRWEB) December 11, 2012
We are excited to announce that ÜberConference has been shortlisted in Most Promising Start-up category for the 2012-2013 Cloud Awards Program. Nearly 200 organizations entered, with entries coming from across the globe, including Europe, the US and Middle East. Final winners will be announced on January 15.
The Cloud Awards identify and celebrate excellence in the field of cloud computing, with categories including Best Cloud Infrastructure, Data Innovation of the Year, Developer of the Year, Most Promising Start-Up, Web Services Excellence and Best Software as a Service.
Cloud Awards organizer Larry Johnson said: "The standard of entries this year was truly incredible – and we're still scratching the surface of what the cloud is capable of. Efficiency, agility and an ability to leverage all of the positive attributes of cloud technologies are what set the organizations in this shortlist apart from any other."
ÜberConference is at the forefront of key trends that are changing the way people communicate in business. In searching for solutions that are simple, flexible, and cost effective, businesses are moving their telephony services to the cloud as supporting technologies evolve and solutions become more stable.
"With easy-to-use consumer technologies and powerful smart phones out there, people have come to realize that business tools don't have to be as ugly and complicated as they traditionally have been, not to mention as expensive. People are especially tired of being taken advantage of by their communications providers with hidden fees, difficult interfaces and clunky solutions," said ÜberConference CEO Craig Walker. "We at ÜberConference will always strive to be the 'good guys' of communications by being fair, innovative, and relentless in our pursuit of creating the best communications products in the world."
ÜberConference combines the power of cloud technologies with great design and engineering to deliver conference calls that are simple, visual, and free. Led by Craig Walker, the founder of GrandCentral/Google Voice, the team includes other past members of the Google Voice team, and has deep experience in developing innovative telephony features at scale. Winner of TechCrunch Disrupt NY 2012, ÜberConference has received rave reviews in the press for its innovative approach to conference calls. The company is backed by top-tier investors, Andreessen Horowitz and Google Ventures, and has raised $18 million.