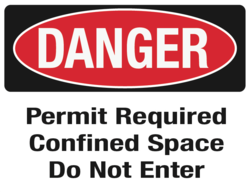 "Safety is our number one priority and Danger Signs are the perfect tool to protect our employees."
Lake Oswego, OR (PRWEB) December 17, 2012
One of the best ways to communicate a hazardous area or keep people away is by the use of Danger signs. Creative Safety Supply has two new products for Danger signs. One of the signs is printed as "DANGER Confined Space Permit Required" and is a sign that will help keep people safe and away from entering a dangerous confined space without the proper permit. A business that offers parking ramps or spaces for their customers would benefit greatly by using this sign for those spaces that are too small for an SUV or even a mid-size vehicle. The sign could also be used for areas that are not meant for vehicles to park such as an area where dumpsters are located or where pickups and deliveries are made. Hospitals or clinics could use this sign as well as other type of businesses where certain parking spots are dedicated only to personnel with permits to park in those dedicated spots.
The other new Danger sign offered through Creative Safety Supply is "Danger High Voltage Authorized" and is a great product for any business that relies on high voltage to run a facility. By placing this sign in an area with high voltage units will warn unauthorized personnel or visitors to keep away. Electric power transmissions are generally located throughout cities to provide electricity and are surrounded by steel gates to keep people out of the area. The high voltage sign would be the extra step to take to assure no one without proper authorization enters the area. A business owner commented, "Safety is our number one priority and Danger Signs are the perfect tool to protect our employees."
Both danger signs are easy peel and stick applications and are made from durable materials that will hold up to extreme environments. They are resistant to bad weather, UV rays, foot traffic and industrial traffic. They are available in five different sizes from 12" x 9" up to 58" x 32" to meet any business needs. Creative Safety Supply also offers, at no extra charge, the ability to add or change the signs to meet specific requirements.
For more information about Danger signs or other safety products, please visit http://www.creativesafetysupply.com/Floor-Signs/ or call toll-free (866)777-1360 to speak with a professional representative.