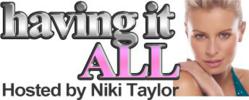 (PRWEB) December 13, 2012
Having it All is a television series showcasing the latest trends and tips for today's modern woman.
This episode starts with Dr. Judy LeVos, PhD in Developmental Psychology and a learning expert at LeapFrog, an educational toy company. Dr. LeVos will discuss LeapFrog's unique approach to designing fun, innovative and engaging learning solutions that help kids reach their potential.
Next they'll discuss a non-toxic scientific way to deal with unpleasant home odors. Zero Odor, winner of the 2012 Customer Survey Product of the Year Award, seeks and bonds with odor molecules turning them into non-odor molecules. Odor is gone forever and won't come back.
Then, Niki speaks with a skin specialist from Home Skinovations who'll discuss at-home beauty treatments using Silk'n FaceFX anti-aging heat and light device.
How does one buy premium quality jewelry online, no matter what their budget is? Angara.com has the answer. They manufacture most of their jewelry in-house, which cuts out the middleman and allows them to maintain the highest level of quality, while passing the savings directly to their customers.
Dr. Crystal Holmes from the "American Podiatric Medical Association", a leading resource for foot and ankle information will discuss foot health and what to look for when choosing shoes.
For those who like to travel this segment is for them. When planning events for the entire family, get the most accurate travel information available from Travelzoo. Located in 25 offices across North America, Europe and Asia, Travelzoo's deal experts have provided more than 1 million smart travel deals to their subscribers.
Next, Harvard and UCLA trained Dermatologist, Dr. Andrew Nelson and Niki discuss professional anti-aging treatments using Fractora from Invasix. Fractora simultaneously treats all of the signs of aging and achieves ideal cosmetic rejuvenation.
Finally they wrap things up with one of their favorite activities, shopping. Get the inside information from Steven Tanger, President and CEO of Tanger Outlet Centers on how to stretch a gift-giving budget and get the best deals on one's favorite designer and brand name manufacturer's like Armani, Banana Republic, J. Crew and many more at Tanger Outlet Centers.
This sponsored episode will air on the following networks:
WE tv
Friday, 12/14 at 7:30 a.m. ET/PT
Saturday, 12/15 at 8:30 a.m. ET/PT
Sunday, 12/23 at 8:00 a.m. ET/PT
Lifetime
Friday, 12/14 @ 6:30 a.m. ET/PT
Friday, 12/21 @ 6:30 a.m. ET/PT
To learn more about the show and Niki Taylor please visit http://www.havingitalltv.com
image alliance, inc., is a full service television broadcast production company, producing programming that is not only entertaining, but also provides viewers with information that relevant to their needs and concerns. With a commitment to excellence to create distinctive programming for discerning viewers, our creative team includes award winning writers, directors, producers and editors for full production all under one roof. Located in Fort Lauderdale, Florida, Image Alliance delivers quality entertainment.