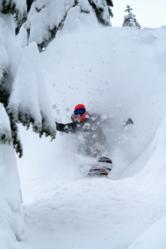 The Pacific Northwest has the most snow in the country...
Leavenworth, Wash. (PRWEB) December 11, 2012
Resorts throughout the country are starved for snow but Stevens Pass in the Pacific Northwest has already received more than 14 feet, giving it the most snow in the United States. All 1,125 acres of terrain at Stevens Pass are open and buried in deep snow.
To celebrate its 75th Anniversary and share the abundant snow, Stevens Pass is offering free skiing and snowboarding to pass holders from any other ski resort in the country with lodging booked at a participating property in Leavenworth, Wash. Two pass holders can get lift tickets and lodging for just $89 per night.
"The Pacific Northwest has the most snow in the country and we want to offer skiers and snowboarders from all over the opportunity to visit Stevens Pass and enjoy the epic powder we've been receiving," said Bill Bourton, General Manager.
The Bavarian village of Leavenworth, WA. and Stevens Pass have partnered to offer additional lift ticket and lodging packages for every budget, creating Washington's best winter destination.
The Getaway Midweek Package starts at just $149 for two people and two lift tickets per day. The Weekend Package starts at $199 for two people. All packages include a VIP activity card which entitles visitors to incredible discounts on winter fun like sleigh rides, snowmobiling, tubing, shopping and dining.
Nancy Smith, Leavenworth Chamber of Commerce Director said, "Our village is the ultimate winter getaway and Stevens Pass is the Pacific Northwest's premier mountain resort. Together, they offer a very unique winter getaway experience."
Stevens Pass receives more than 450 inches of snow a season so the current conditions are not that abnormal for an early December snowpack. The most recent storm that dropped a historic 39 inches of snowfall in just one night was caused by a weather phenomenon unique to the Pacific Northwest.
John Meriwether, Stevens' meteorologist explained, "Last weekend's epic snow was due to the relationship of Stevens Pass to the Puget Sound Convergence Zone. When the wind hits the northern coast of Washington directly from the west, it splits around the Olympic Mountains and "converges" over Puget Sound. Just like water flowing around a rock, it eddies directly behind the Olympics and accelerates on its edges. The Highway 2 gorge leading to Stevens is positioned perfectly to augment the acceleration. The wind and snow got shoved up through Stevens Pass and unloaded an incredible amount of snow in just 12 hours."
About Stevens Pass Mountain Resort:
Celebrating its 75th year of operation, Stevens Pass is located 78 miles east of Seattle on the crest of the Cascade Mountain Range. Stevens receives over 450 inches of snow, on average, annually, covering 1,125 acres of skiable terrain – including 37 major runs and numerous bowls, glades and faces. The ski resort has a variety of terrain for every age and skill level. Normal winter operations run from early December to mid-April.