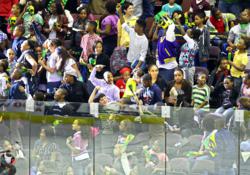 SOUTHAVEN, Miss. (PRWEB) December 11, 2012
The Mississippi RiverKings are supporting educational activities for Mid-South students both in the classroom and at the rink.
On Tuesday, November 13, the RiverKings hosted their 11th "Face Off Field Trip" when they took on the Huntsville Havoc at the Landers Center. More than 2,500 junior high students from the area attended the event, which included math, geography, and creative writing exercises with hockey references.
"My kids loved the experience," said Kathy Hopkins, teacher at Desoto Central Middle School. "It introduced them to hockey, it was educational and it was fun and affordable as well."
On Tuesday, January 29, the RiverKings will host another "Face Off Field Trip" presented by Belhaven University for elementary school students. Participants have the opportunity to watch the 'Kings take on the Huntsville Havoc while using educational workbooks to build their knowledge of math, science, geography, physical education and hockey.
Admission for the event is $2 per child, while teachers and chaperones can attend at no cost. For more information, contact Mississippi RiverKings Community Development at 662.342.1755 or email communitydevelopment(at)riverkings(dot)com.
The RiverKings play their next game on Saturday, December 15 at the Landers Center. Puck drops at 7:05 p.m. For more information on all t hings RiverKings, "like" us on Facebook (facebook.com/mississippiriverkings) or "follow" us on Twitter (twitter.com/riverkings).
The Mississippi RiverKings are supported by their community partners, season ticket holders, fans, and by program-related investments of the Maddox Foundation, an independent private foundation based in Hernando, Miss. To find out more about the RiverKings, call 662.342.1755 or visit http://www.riverkings.com.