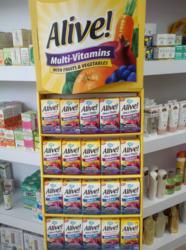 Alive!® is more than just a multi-vitamin, it is a nutritionally diverse supplement that supports both men's and women's health.
Brooklyn, NY (PRWEB) December 18, 2012
Everyday Vitamin is pleased to announce that they carry the Alive!® Whole Food Energizer supplements by Nature's Way. These products help solidify Everyday Vitamin's position as a nutrition company and online retailer that specializes in addressing both men's and women's personal health concerns.
Hectic everyday lives Americans lead leave very few opportunities for them to maintain proper nutrition. Both men and women need different amounts of certain vitamins to maintain optimal health, but are not obtaining them on a daily basis. "If consumers are looking for more than just a multi-vitamin, supplementation with Alive is the answer," said Wayne Xu, Vice President of Everyday Vitamin Nutrition LLC. "Alive offers a single supplement that both male and female consumers can take to address their overall health concerns."
About Alive!®
In addition to providing high dosages of essential everyday vitamins, minerals, what makes the Alive!® formula so effective is that it contains nutrients from fruits, vegetables and potent homeopathic ingredients that provide maximum nutrition to optimally support men's and women's health. As a whole food, it provides daily nutrition from fruits, vegetables, and a green food/spirulina blend. Spirulina is a blue-green algae species that is rich in protein, vitamins, minerals, and carotenoids, and antioxidants and is typically taken as a dietary supplement. It also contains ingredients have been shown in scientific literature and ayurvedic medicine to have benefit in many therapeutic areas.
Specifically, Alive!® Max Potency for Women provides nourishment for a health urinary tract and hair, skin and nails:

Urinary tract health with a branded cranberry blend called CranRx™
Hair, skin, and nails health with a blend of horsetail grass, and grapeseed extract antioxidants
Alive!® Max Potency for Men provides optimal amounts of minerals needed to protect the prostate and provides much needed energy boost for those workouts at the gym or for general relief of sluggishness:
Energy and overall health – with a whole food blend containing 18 amino acids including glutamic acid, aspartic acid, arginine, leucine, lysine, serine, phenylalanine, valine, isoleucine, alanine, proline, glycine, etc. and a garden vegetable blend with parsley, kale, spinach, wheat grass, brussel sprouts, and other vegetables.
Prostate health – with a blend of Saw Palmetto and tomato extract (for lycopene)
Energy and Endurance – with a blend of Siberian Eleuthero, Rhodiola Rosea extract, Korean Ginseng, and Gotu Kola
For both men and women:
Cardiovascular Health provided by Hawthorn, Japanese Knotweed for Resveratrol, and Coenzyme Q10 blend
Immune Defense provided by a 12 organic mushroom blend (Cordyseps, Reishi, Shiitake, Hiratake, Maitake, Yamabushitake, etc.)
Digestive health provided b a concentrated enzyme blend
In addition to Alive!® Men's and Women's Max Potency supplements, EverydayVitamin.com carries entire suite of Nature's Way Alive!® products including:
Alive!® Once Daily Men's Ultra Potency
Alive!® Once Daily Women's 50+ Ultra Potency
Alive! Once Daily Men's 50+ Ultra Potency
Alive!® Energy 50+ Multi-vitamin and Multi-mineral
Alive!® Women's Energy Multi-vitamin
As part of any diet plan, this supplement must accompany exercise and a balanced diet.
About Everyday Vitamin:
Everyday Vitamin Nutrition LLC, is a natural health company based in Brooklyn, NY and online retailer that aims to promote nutrition and health through the sale of vitamins and supplement products, herbs and homeopathic remedies. These products include vitamins, minerals, dietary supplements, diet and weight loss teas that provide numerous health benefits that assist in weight loss management, exercise nutrition and improving overall health.
Everyday Vitamin carries hundreds of well-known, trusted brands such as Genesis Today, Life Extension, Nature's Way, and Now, which have been proven safe and effective by solid scientific research.
Visit Everyday Vitamin at: http://www.everydayvitamin.com for more information.