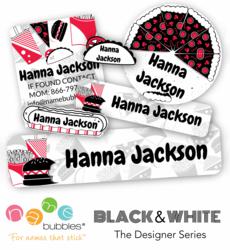 Our customers talk to us every day aboutat designs and styles matter most to them. They're incredibly creative and innovative, too, so we're excited to be offering them what they want.
Clifton Park, NY (PRWEB) December 12, 2012
Name Bubbles, the award winning kids name label manufacturer and e-commerce website, today announced the release of their new product line to their recently re-launched website, NameBubbles.com. The original designs include new Black & White labels that are grouped into seven (7) styles, such as Chevron Chic, Equestrian Life, Snack Attack, or Text Me, that come in a variety of sizes that can be used as clothing name tags or dishwasher safe labels. Additional color palettes, labels shapes and icons ranging from edgy teen trends to cute newborn styles were also added to Name Bubbles' personalized kids label options. All new designs were added to Name Bubbles' ever-popular label creator, the 'Bubble Maker', where customers choose their styles, colors, icons and shapes that reflect their unique personal taste.
"In addition to the new color and design options, we've also added new fonts to better reflect our customers' preferences. We're now able to help them express their style through a variety of typefaces, which can change the look of the label from classic to modern or from playful to edgy," says Michelle Brandriss, the company's Founder and CEO.
Each new icon, color palette and shape has been created by Name Bubbles' in-house design team of talented graphic artists who have created new looks according to customer feedback and today's popular design trends. "Our customers talk to us every day about what designs and styles matter most to them. They're incredibly creative and innovative, too, so we're excited to be offering them what they want. Our customers mean everything to us, so this is a very exciting time for Name Bubbles," says Brandriss.
The Black & White Designer Series was created by a talented in-house graphic designer at Name Bubbles headquarters. The custom designs, edgy patterns and sophisticated style found in the Black & White Series will resonate with older kids, tweens and teens. The designer created a 'Color Punch' in today's hottest colors that add a pop of personality to the Black & White label designs. "My goal was to give teens an eccentric look at name labeling, something that they would relate to. I can see a girl rocking out to her iPod with a Petal Power name tag label and skaters ripping down a half pipe with a big Totem styled label slapped on their board," says Matt Bradley, Name Bubbles Designer.
To purchase Name Bubbles baby, kids, tween and teen labels, now featured in new shapes, colors, icons and styles, visit NameBubbles.com.
About Name Bubbles
Winner of the prestigious 2012 SheKnows Parenting Awards for Best School Supply and the renowned iParenting Award for Outstanding Products, Name Bubbles are press-and-stick name labels designed to help busy families keep track of toys, clothing, hand-held electronics, baby bottles, school uniforms, sports equipment, lunch boxes, backpacks and much more. Name Bubbles waterproof labels are dishwasher, laundry, and microwave safe. Custom packs are available for camp labels, school labels, daycare labels, sports labels and write on message labels - the sticker label you customize again and again. They can all be personalized and purchased directly on the Name Bubbles website at http://www.NameBubbles.com.
# # #