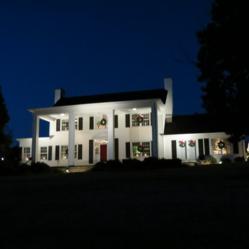 We are excited to partner with Abernethy Laurels for this year's Holiday Tour of Homes
Newton, NC (PRWEB) December 11, 2012
Abernethy Laurels, an active retirement community in Newton, is pleased to host Newton-Conover Education Foundation's Holiday Tour of Homes on the evening of Thursday, December 13.
This year's holiday home tour is the eleventh installment of this Catawba County tradition, and is one of the largest fundraisers for Newton-Conover Education Foundation, a not-for-profit organization designed to provide scholarships for students and grants for teachers in the Newton-Conover City Schools district. "We are excited to partner with Abernethy Laurels for this year's Tour of Homes," said Newton-Conover Education Foundation Chair Michael Willard. "Abernethy Laurels and United Church Homes and Services have always been great supporters of this community, and we are excited to have them as part of Newton-Conover Education Foundation's efforts to help Newton-Conover City School's students and educators."
The tour will feature four private homes and one model apartment, all part of the Abernethy Laurels Village, as well as the stately United Church Homes and Services Corporate Headquarters. Each household has been encouraged to use their regular holiday decorations to correlate with this year's theme, A Lifetime of Traditions. Tour committee chairman Tim S. Elliot stated "Locating the tour at Abernethy Laurels provides us with unique opportunities offered through the very generous staff at Abernethy Laurels and United Church Homes and Services. Everything will be in very close proximity, and the use of Abernethy Laurel's Community Center will create a richer experience for tour-goers." As a result of this partnering, this year's event will allow guests to park and then have access to ride shuttle buses that will make continuous stops at each tour location. The Village Bistro, located inside the Community Center at Abernethy Laurels, will have a special menu of seasonal foods available for the evenings event. Live piano concerts of popular holiday music will take place in the lobby area of the Community Center. The Holiday Market will be held in the Community Center's Spirit Place and feature fine retailers from the Newton and Conover areas.
Tickets cost $15 each and can be purchased at Abernethy Laurels the evening of the event. Each ticket holder will have access to the Holiday Tour of Homes event scheduled for Thursday, December 13 at 5:30pm and will be entered into the Holiday Tour Raffle which will include prizes donated by area businesses.
Abernethy Laurels, located in Newton, NC, is a not-for-profit retirement community owned and operated by United Church Homes and Services. The continuing care retirement community takes pride in its forty-one year history and tradition of excellence. While the community offers a wide range of first-rate amenities, it is surprisingly affordable. For more information, visit http://www.abernethylaurels.org or call toll free 877-637-7941 or 828-465-8552.