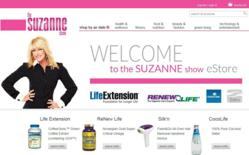 Seattle, WA (PRWEB) December 12, 2012
On December, 2012, the Silk'n Flash&Go is scheduled to be featured on the SUZANNE Show on Lifetime Television, hosted by celebrity Suzanne Somers. Silk'n® Flash&Go is a pulsed light hair removal device manufactured by Home Skinovations, the leader in innovative skincare and light-based technology.
For a limited time, shoppers are being offered a 20% discount on Flash&Go when they type the promotion code SUZANNE in the shopping basket when they visit shop.suzannetv.com.
The SUZANNE Show e-store, online at shop.suzannetv.com, offers products that are featured on episodes of the show. Product categories found on the e-store include health & wellness, fitness, food & nutrition, beauty & fashion, green living, technology and entertainment.
Ranjit Mulgaonkar, CEO of DNA Response, says "It is nice to be able to benefit two clients with one promotion. We are delighted to represent the Silk'n brand of skin care products for all of their online multi-channel commerce needs. Now that we have created the e-store for products featured on the SUZANNE Show, we provide consumer product marketers with an additional channel to grow their sales on a shared-revenue basis."
About DNA Response
DNA Response, Inc. (DNA) provides turnkey multi-channel online commerce, online marketing, order management and fulfillment services to consumer product marketers. DNA generates incremental revenue for its clients by selling their products directly to consumers on online marketplaces, e-stores, direct response TV, home shopping networks, TV shows, big box retailer sites and deal sites. DNA provides universal order management for processing orders in real time from all the sales channels with full visibility to the business for the clients.