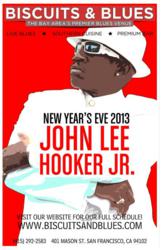 Biscuits and Blues is iconic in San Francisco and has been awarded the 'Keeping the Blues Alive' Award for best night club in the US. - Paula S.
San Francisco, CA (PRWEB) December 12, 2012
Biscuits and Blues is pleased to announce live performances for the month of December 2012. The San Francisco bar, restaurant, and nightclub is a popular location for live music in San Francisco. The December performances, which will take place at Biscuits and Blues and The Union Room, continue a long tradition of live bands that San Francisco establishments present throughout the year.
The bar recently announced its upcoming live performance schedule in December. Highlights of the upcoming performances include:
Derek Hughes on December 14th at 8:00 and 10:00 p.m.
Sista Monica on December 15th, at 8:00 and 10:00 p.m.
Karen Lovely on December 21st, at 8:00 and 10:00 p.m.
Cafe R & B on December 22nd, at 8:00 and 10:00 p.m.
Rick Estrin and the Nighcats on December 28, at 8:00 and 10:00 p.m.
Earl Thomas on December 29th, at 8:00 and 10:00 p.m.
Most importantly, a special New Year's Eve performance by John Lee Hooker Jr. will be on December 31, 2012. He will have two performances - 8pm and 11pm. Call 415-529-4624 to ask about tickets to watch his performances and celebrate NYE in San Francisco.
Throughout the month of December and January, Biscuits and Blues will host a huge lineup of other performers, including Derick Hughes, Sista Monica, Café R&B, Earl Thomas and the Nightcats, Keith Crossan Blues Showcase with Mark Karan, Laurie Morvan Band, Karen Lovely, Craig Horton, John Nemeth, Maria Muldaur and numerous others.
Biscuits and Blues will be kicking off the new year with a fantastic list of talented singers and guitarists from all over the United States. January's lineup include:
Saturday January 5 2013
EC Scott
8PM & 10PM
Thursday January 17 2013
Eric Sardinas
8PM & 10PM
Friday January 18 2013
Johnny Rawls
8PM & 10PM
Thursday January 24 and Friday January 25
BB King Tribute with Billie Big Daddy Cade
8 PM & 10PM
A complete schedule with dates and showtimes is published on the Biscuits and Blues website, along with artists' bios. To find out more about this winter lineup visit http://www.biscuitsandblues.com
Biscuits and Blues is a full restaurant and bar and one of the premier sources for live music performances San Francisco clubs and restaurants are known for. Biscuits and Blues is one of the top event venues San Francisco music fans enjoy on a regular basis. The restaurant and nightclub features award-winning southern cuisine and a wide selection of celebrated blues and rock artists. For further information about Biscuits and Blues or to purchase tickets, call (415) 529-4624. Reservations are recommended, but not mandatory. Dinner is required on the weekends.
About the company:
Biscuits and Blues is a full restaurant, bar, and nightclub and one of the reasons why San Francisco is on the map for music lovers.
Located at 401 Mason St. at Geary, they offer an intimate setting for the best National and Regional Blues acts and are proud to feature an award winning Southern Cuisine menu. Their full restaurant and bar service offers first-class entertainment with memorable flair. For more information and current lineup, please visit their website at http://biscuitsandblues-sf.com.