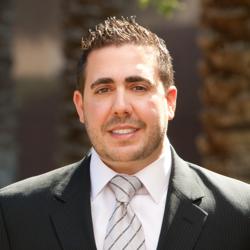 Frank's dedication to attending the live and online educational sessions and then passing the difficult final test places him a select group of legal professionals in understanding the technological and legal issues in the eDiscovery field. M. Arkfeld
Phoenix, Arizona (PRWEB) December 12, 2012
Richard Saldivar, President TERIS Arizona and Texas announced that Frank Mancini TERIS Phoenix recently graduated from the highly thought of and intense seven week 40-plus hour Arkfeld eDiscovery and Digital Evidence Course. According to Michael Arkfeld, "Frank's dedication to attending the live and online educational sessions and then passing the difficult final test places him a select group of legal professionals in understanding the technological and legal issues in the eDiscovery field."
In 2012, Frank joined TERIS, Phoenix and put his account management skills and love of technology back to work in the eDiscovery and litigation environment. Frank's passion for attention to detail rewards TERIS clients with consistent results in an industry that demands precision. A commitment to continuing education drove Frank to attend the Electronic Discovery and Evidence Training Institute. According to Frank, "Our clients deserve peace of mind. Modern Litigation Support is inherently fluid and plans often change. I want to serve as a true partner by anticipating the pitfalls of data collections and providing the best possible deliverables. The investment of continuing education keeps me sharp for our clients."
Frank started in the litigation support industry in 2003 where he worked his way up from customer service at Datum Legal in New York City to Northeast Territory Manager at IPRO in less than five years. His experience in the service provider and software sectors gives him a better appreciation of the challenges TERIS' clients face in the fast-paced world of litigation discovery management.
Prior to joining TERIS Frank represented the West Coast Major Accounts Division for a national invoicing and financial statement printing company. In this role, Frank managed a multi-million dollar portfolio of business where his main focus was the administration of billing platforms for companies in the telecommunications and banking industries. Trending the performance of each clients billing activity included plans to combat customer churn and marketing new products and services.
Arkfeld Professional Education, through LawCLECenter (http://www.lawclecenter.com), created the eDiscovey and Digital Evidence course and is dedicated to providing legal practitioners and associated professionals with the most current, relevant information and practices in the eDiscovery field. They achieve these objectives through high quality live and online presentations.
TERIS has seven regional locations throughout the United States. The Phoenix office has been open for over ten years and recently achieved Service Organization Control (SOC) Type 2 Certification. This certification acknowledges that TERIS is an organization that delivers secure, reliable, and effective operating environments featuring the appropriate controls for conducting IT operations for our clients. For more information about TERIS Phoenix please go to http://www.TERIS.com/Phoenix or email fmancini(at)TERIS.com.